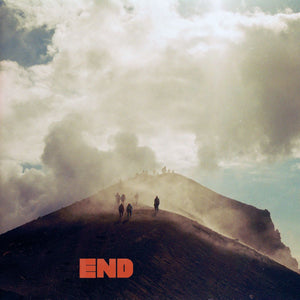 Explosions in the Sky
End: Yellow Vinyl LP
BELLA1527VX
Regular price
£22.00
£0.00
Unit price
per
Tax included.
Shipping
calculated at checkout.
Pre-Order Item. Release Date Subject to Change.
Label: Bella Union
Release Date: 15th September
A friend of mine at uni use to play Explosions in the Sky every time they'd have someone round to stay the night (you know what I mean). Made listening to this band after that quite harrowing for me. Could this new album break the almost 20 year spell?
End, the enigmatic seventh album by Explosions in the Sky, was inspired by darkness, but became a loud, dramatic, wild rumination on life and death.
"Our starting point was the concept of an ending—death, or the end of a friendship or relationship. Every song comes from a story, or an idea one of us has had that we've all expanded on and made its own world. Maybe it's our nature, but we kept feeling that the album title was ultimately open to a lot more interpretation—the end of a thing or a time can mean a stop, but it can also mean a beginning, and what happens after one thing ends might pale in comparison to what it becomes next," says the band about the album.
End is perhaps the "grandest" Explosions in the Sky album – melding the quiet restraint and crushing feel of their early releases with the sonic texturing and ornate experimentation of their later releases, and their increasingly deep film and television scoring catalog, influenced by personal tastes stretching from classical to soul to experimental ambient music.
The title "End" furthers a story arc reflected in the album titles that started with the "innocence" of their first album (How Strange, Innocence), progressed through the idealism and romanticism of their second and third albums (Those Who Tell the Truth Shall Die, Those Who Tell the Truth Shall Live Forever and The Earth is Not a Cold Dead Place), followed by the introspection (All of a Sudden I Miss Everyone and Take Care Take Care Take Care) and big-picture focus (The Wilderness) of their most recent albums.
---
Share this Product
---