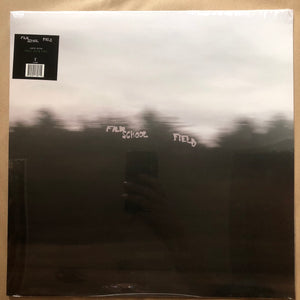 Film School
Field: Forest Green Vinyl LP
FLT099LPC1
Regular price
£25.00
£0.00
Unit price
per
Tax included.
Shipping
calculated at checkout.
Label: felte
Release Date: 25th August
Spellbinding jangly, shimmering indie pop with a bit of cinematic driving krautrock, just let me stuff my ears with the stuff, just something about Film School and their latest album 'Field', which just feels like it's a nourishing detox for the soul.
In Rumi's poem A Great Wagon he writes of a place of total acceptance. "Out beyond ideas of wrongdoing and rightdoing, there is a field. I'll meet you there," It is a boundless, liminal space where we can release the judgments we make and carry of ourselves, and the comparisons to others. When we think of this field, there is a sense of tranquility that only comes when we are undisturbed by the shadow self and see existence as neither bright nor dim, white nor black. But as lead singer Greg Bertens explains, arriving there is a whole different story. "This is a poem I've returned to over the years, and I love the idea of this place, but getting there is life's journey." Bertens adds "I think the longing for and elusiveness of this field is a recurring theme in our music." Field, their first album released on felte, is enveloped by themes of regret, disconnection and frustration but with the space to understand that these feelings are a natural part of the struggle between reconciling the inner and outer self.
The Los Angeles/San Francisco-based group have been indie shoegaze stalwarts since their formation in 2001. After two decades and a handful of line-up changes, their extensive discography presents a dynamically textural, lush psychedelic rock that has featured guest appearances by members of Pavement and
 

My Bloody Valentine among others. 2021's LP We Weren't Here was hailed for its dense instrumental blanket, where unrelenting hi-hats and heavy kicks exist alongside dreamy drone guitar.

This propulsive nature permeates Field, as members Bertens, Noël Brydebell (vocals), Nyles Lannon (guitar), Jason Ruck (synths), Justin LaBo (bass), and Adam Wade (drums) produce a kaleidoscopic sonic landscape. Patient, sprawling instrumentation builds a foundation in which Bertens' themes of endurance, perseverance and clarity can bloom with a considered poise. As a lyricist who writes in response to the instrumental arrangements, rather than a focus on a specific theme or person, Field is a testament to Film School's ability to create in the moment, and to showcase the magic that stems from when we are truly present.

With over two decades in the industry, Field cements Film School as a distinct, dominant force in the shoegaze scene. Soaked in an emotionally open, imaginative atmosphere, the album is both singular and expansive, and leaves the door open for a constantly evolving interpretation. Film School have never confined themselves to the rigidity of specifics, and it's on Field that they urge us to look beyond the binary of certainty, and to take a second look.
---
Share this Product
---