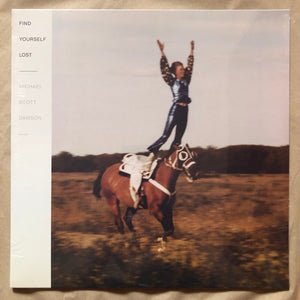 Michael Scott Dawson
Find Yourself Lost: Vinyl LP
LPWABB149
Regular price
£28.00
£0.00
Unit price
per
Tax included.
Shipping
calculated at checkout.
Label: We Are Busy Bodies
Release Date: 26th May
'Find Yourself Lost', indeed. It's pretty easy when you pop this on, it's a sit back as you find yourself floating in a pedal steel, ambient, sweeping mountainous garden of delights. 
For those who dig: it's not 'cosmic country' but if you're down for that, you'll be down for this.
Michael Scott Dawson is a Canadian producer and sound artist - Anchored by frayed melodies, tape loops, and pastoral field recordings he has crafted a body of tender and nostalgic ambient work.On his third solo LP, Find Yourself Lost, Dawson veers toward the fringes of country and western
Although 'cosmic' has become catchall descriptor in both country and ambient music, Dawson reaches for something more earthly. Something more grounded. Ribboning miles of pedal steel nestle into hushed tones and gossamer textures. Reflecting on the process he states, "It took some time to find myself in it. The first few pieces I made were embarrassingly twangy. I love spaghetti and I love western but never the two shall twain." Instead, Dawson began to experiment with alternate tunings and granular guitar. He recorded and mixed a full album, and then called upon a handful of friends and kindred peers to improvise on top of it. Treating their contributions like found sounds or samples he stole little moments, manipulated passages, and dismantled his original recordings in the process. Find Yourself Lost marks the first time Dawson has been joined by other musicians. He's a member of the free jazz outfit Peace Flag Ensemble and an avid collaborator, but his own records have been solitarily affairs. "I love the act of collaboration. There's a joy to be found in responding to someone else's creativity or ensuring that your ideas serve the greater good." Dawson notes, "With my own material I've been more selfish. Every song is a love note to myself. They are reminders to practice patience, to allow space for growth, to embrace imperfection, and to always remain open to change. But I'd neglected an incredibly important sentiment... You are not alone and it's okay to ask for help."
---
Share this Product
---