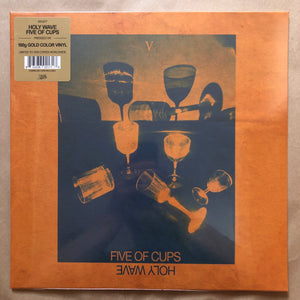 Holy Wave
Five Of Cups: Gold Vinyl LP
SSQ217LPC1
Regular price
£25.00
£0.00
Unit price
per
Tax included.
Shipping
calculated at checkout.
Label: Suicide Squeeze
Release Date: 4th August
We got that oozy woozy dream pop here, close your eyes and it feels like it's soundtracking some well edited super 8 footage of your life from childhood to adulthood with all them sweet sweet and not so sweet core memories captured. 
Five of Cups opens with the title track, establishing the album's auditory and thematic modus operandi from the get-go. Holy Wave's lysergic textural palette is immediately apparent in the song's woozy synth lead and anti-gravity guitar jangle, but the atypical chord progressions and vocal melody steers the music away from anodyne escapism into a pensive grappling between self-determination and defeatism. Holy Wave continue to ride the wistful and phantasmic train on "Bog Song," where the members vacillate between swells of austere minor chords and layered electric orchestration. From there, the previously released digital single "Chaparral" plays with the band's own sense of nostalgia, weaving references of their El Paso past into a tapestry of transcendental triumph. Like so much classic album-oriented rock music, the real magic begins to unfold in the latter half of Five of Cups. On "The Darkest Timeline," Holy Wave recruits their friends Lorena Quintanilla and Alberto Gonzalez from the Baja California, Mexico psych duo Lorelle Meets the Obsolete to add additional ethereal layers to their intoxicating after-mid[1]night grooves. "Nothing in the Dark" functions on a similar principle, using a steady propulsive drum pattern as the bedrock to tape-warbled synths, arpeggiated guitar chords, jet streams of fuzz, and serene vocals. Five of Cups' ruminations on combating defeat and disappointment are directly confronted on album closer "Happier." Once again straddling the melodic line between melancholy and breezy sophistication, Holy Wave examines the synthetic construct of happiness in our modern age and how so often the attainment of comfort lacks any true sense of joy. Yet this isn't some nihilistic dirge. Rather, it translates as a buoyant reminder that the bandwidth of human experience inherently requires peaks and valleys, and that euphoria is often found in the search outside of the familiar.
---
Share this Product
---