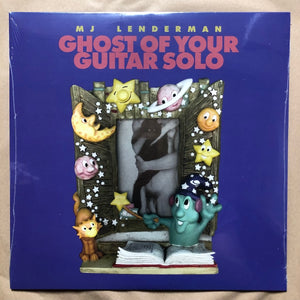 MJ Lenderman
Ghost of Your Guitar Solo: Vinyl LP
LPDLR016
Regular price
£24.00
£0.00
Unit price
per
Tax included.
Shipping
calculated at checkout.
Label: Dear Life Records
Release Date: 2nd June
MJ Lenderman makes ballads about barbecues stuck outside while it pours it down, accept it ain't really just about that, it's more than that, just real human stuff. Not only that MJ Lenderman is a proper tuneman, just beautiful indie folk rock compositions that also slay.
MJ Lenderman is the project of Asheville native, Jake Lenderman, whose 'Boat Songs' was released to wide acclaim on Dear Life Records in 2023
Now Dear Life is proud to offer a vinyl reissue of MJ's 2021 label debut, 'Ghost of Your Guitar Solo,' a collection of nine songs recorded and performed entirely by Lenderman, and one live band track.The record was written and recorded quickly, songs often being fully constructed and recorded within frenzied single day sessions. Songs were born out of freewheeling jam sessions with his roommates, with Lenderman often freestyling lyrics that would later become the foundations of the finished songs. Lenderman would write 20 disconnected lines a day, scrapping most of them but preserving a few to be used later. This process aided in what became an extremely prolific writing period for the artist in the spring of 2020. The record sounds like country music being played by a noisy punk band, unkempt and imperfect like the characters in his songs.
Here, Lenderman broadened his lyrical scope beyond solemn introspection, adding humor to scenes larger than his own life. He points to authors Harry Crews and Larry Brown as inspirations, both of whom were southern, self-taught writers who balanced empathy, humor, and darkness. This leads to the erosion of the line that separates humor and sadness. The resulting songs are about over- indulgence and drug/alcohol abuse, full of self-loathing and pity while celebrating the absurdity of it all.

---
Share this Product
---