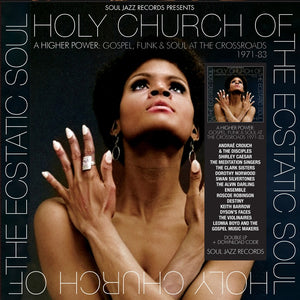 Various Artists (Soul Jazz Records)
Holy Church Of The Ecstatic Soul - A Higher Power: Gospel, Funk & Soul at the Crossroads 1971-83: Double Vinyl LP
SJRLP522
Regular price
£26.00
£0.00
Unit price
per
Tax included.
Shipping
calculated at checkout.
Label: Soul Jazz Records
Release Date: 22nd September
Disco funk and soul gospel bangers from the 70s, the raw emotion, that deep down passion, the sweet sweet power of faith and bands who could lay down. Soul Jazz with another heavenly mix.
Holy Church of the Ecstatic Soul: Gospel, Funk and Soul at the Crossroads 1971-83 draws upon the extensive links between black American gospel music and soul music, showing how the sensibilities of gospel artists such as Shirley Caesar, Dorothy Norwood, Andraé Crouch and others crossed over into secular soul music during this period.
Many of the most successful soul artists – from Aretha Franklin to Al Green, The Staple Singers to Sam Cooke – all drew upon their upbringing in the church for their musical inspiration. This album discusses how important the links between the black church and soul music were in creating soul music and spotlights some of the many important (and also little-known) gospel artists who walked this line between sacred music and soul, funk and disco in the 1970s and early 1980s.
Holy Church of the Ecstatic Soul shows how sacred gospel music was at home with Stevie Wonder, Blaxploitation-style funk and produced music celebrated both in New York's underground discos (The Paradise Garage, Studio 54, etc) and later sampled by the likes of Jay-Z, Snoop Dogg and Mary J Blige.
LP 1:
1. Andraé Crouch & The Disciples - Satisfied
2. Shirley Caesar - Jesus Children of America
3. The Meditation Singers - Trouble's Brewin'
4. The Clark Sisters - You Brought the Sunshine
5. Dorothy Norwood - Let Your Feet Down Easy
6. Shirley Caesar - Jesus is Coming
7. Swan Silvertones - If You Believe Your God is Dead

LP 2:
1. The Alvin Darling Ensemble - Is There Anybody Here?
2. Roscoe Robinson - There's a Creator
3. Destiny - Nothing Can Stop Me Now
4. The Meditation Singers - Good Old Gospel Music
5. Keith Barrow - Everything is Gonna Be Alright
6. Roscoe Robinson - Elijah
7. Dyson's Faces - Till I've Got This Feelin' of Love
8. The Violinaires - The Upper Way
9. Leomia Boyd and The Gospel Music Makers - Higher in Jesus' Love
10. Keith Barrow - The Right Road Now
---
Share this Product
---