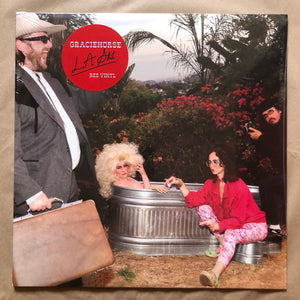 GracieHorse
L.A. Shit: Red Vinyl LP
WCR143LP-C1
Regular price
£21.00
£0.00
Unit price
per
Tax included.
Shipping
calculated at checkout.
Label: Wharf Cat
Release Date: 19th May
Ain't country music great? Few genres as genuinely cool or as loaded with pure attitude when it's at its best. GracieHorse is here backed with contributions from King Tuff, Emmett Kelley and Bobbie Lovesong, it's that tight raucous playing but with some melodic yearning from the lapsteel. At one moment she's serving up Bobby Gentry the other PJ Harvey and then some Laurel Canyon "LA Shit". 

'L.A. Shit' is the new LP from the punch-throwing, shit-kicking country outfit fronted by Fat Creeps bunder Gracie Jackson, featuring contributions from King Tuff, Emmett Kelley (Cairo Gang, Bonnie 'Prince' Billy, Ty Segall Band) and Bobbie Lovesong.
Gracie Horse weaves stories into her songs. On 'L.A. Shit', her debut record with Wharf Cat, she takes us into the past half a decade of her life. We see her as a traveling nurse, living in big blue expanse of Wyoming, dancing with a man in a crisp white Stetson, eating chicken wings in a hazmat suit, commenting on how strange a place like Los Angeles can be, how loaded it is with wannabe cowboys and fast food restaurants. It's a record of immaculate country music, the kind of stuff you'd put on blast in your truck as you drive down empty stretches of highway. It's also a vulnerable record, full of lyrics about the intensity of being alive, all told with a sense of humour and self-awareness.
While some of the songs on 'L.A. Shit' are over a decade old, Gracie started writing the record in earnest during the pandemic. She's a nurse, injured her neck in the line of duty, and suddenly found herself out of work. She had a creative explosion, putting memories into words and melodies in her home studio that she shared with her husband. Particles of songs from years past became beautifully realized. Everything was clicking in the way that it should. She found herself able to express the sometimes inexpressible. She did what all good country music should do: she created a patchwork of experiences in a way that is both deeply earnest and absolutely charming.

In addition to being Gracie's own major artistic statement, 'L.A. Shit' is a community effort. To make it, she enlisted countless friends in the Los Angeles Area, many of whom are touring and session musicians who were stuck at home during the pandemic. "I'm grateful," she says of the experience, "I'm proud that I get to show off my friends on this record." Indeed, 'L.A. Shit' is that kind of big family affair. It's as country as country can be. Funny, heartbreaking, brutal.
---
Share this Product
---