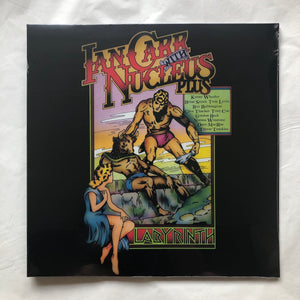 Ian Carr with Nucleus
Labyrinth: Vinyl LP
BEWITH103LP
Regular price
£24.00
£0.00
Unit price
per
Tax included.
Shipping
calculated at checkout.
Label: Be With Records
Release Date: 16th September
Deep brooding dark jazz rock fusion from the British master Ian Carr with his merrily tight band Nucleus. It's a darker affair but don't worry this is still samplers dream, big beats, heavy keys, hard brass and a very British take on gospel spirituality.
For those who dig: Soft Machine, Frank Zappa, hard rock jazz fusion, records prime for sampling...
Format Notes: 2022 re-issue, 140g vinyl, gatefold sleeve, remastered from the original tapes.
Labyrinth is dark, brooding, beat-heavy, melancholic mood music courtesy of Ian Carr and the Nucleus crew. A favourite of Madlib, it goes without saying that this is one magnificent record.
Originally released on Vertigo in 1973, Labyrinth was never re-pressed and of course those original copies are now very tricky to score. Like all the Nucleus records, it's aged ridiculously well and this Be With re-issue, re-mastered from the original analogue tapes, shows off just why this deserves to be back in press.
Genius trumpeter and visionary composer Ian Carr was one of the most respected British musicians of his era. He was a true pioneer and saw the potential in fusing the worlds of jazz with rock, just as Miles Davis and The Tony Williams Lifetime did in the US. In late 1969, following the demise of the Rendell-Carr quintet, and tiring of British jazz, Carr assembled the legendary Nucleus. Regarding music as a continuous process, Nucleus refused to "recognise rigid boundaries" and worked on delivering what they saw as a "total musical experience". We can get behind that.
Under bandleader Carr, Nucleus existed as a fluid line-up of inventive, skilled musicians. This constant evolution and revolution was all part of the continuous musical exploration and discovery that took jazz to new levels. And the music has kept relevant. To steal a line from a recent review of our re-issue of Roots, when it comes to anything Nucleus "it's basically already hip-hop".
At this point Carr had parted ways with guitarist Alan Holdsworth and as a result the Nucleus sound found itself returning to the core elements of groove and melody. Carr had become bolder and more self-confident in his compositions and it shows in the sheer ambition of Labyrinth. Composed by Carr, and with lyrics written by his wife Sandy, Labyrinth was the result of a commission from the Park Lane Group and funded by
the Arts Council of Great Britain. Originally a live performance by an augmented Nucleus, some of the expanded cast were brought back for the recording sessions, including vocalist Norma Winstone. So as the front cover of the finished album says, this is literally "Nucleus Plus".
Labyrinth is presented as a suite, based on the ancient Greek legend of the Minotaur with musical instruments representing the various elements of the mythology. According to the LP's original sleeve notes, the bass clarinet represents the tragic element, the trumpet represents the heroic element and the voice represents the human element. The rest of the musicians represent the two societies of Athens and Crete and their comments on the story as it unfolds.
The album opens with the experimental, sumptuously dissonant "Origins". Teasing strands of atmospheric bass clarinet introduce the first theme before swiftly fading out with a startling blast of staccato fanfares and big drums. Heavy. The album soon finds its rhythm as it alights on the spell-binding and groove-friendly "Bull- Dance", showing off the best Nucleus has to offer: subtle trumpet melodies, compelling rhythms, a psych- rock vibe and tight soloing. And of course there's Norma Winstone's stunning wordless vocals, that also take the lead in the next track "Ariadne", a spacey-jazz song with beautiful piano, flute and clarinet, and the only recognisable lyrics on the album. You might recognise a snatch of it being looped by Madlib on Quasimoto's "Astro Travellin". The first part of the improvised "Arena" closes out the first side of the album, a short experimental piece with piano and horns.
Over on the flip-side, the powerful second part of "Arena" introduces a new theme. It swiftly builds, with vocal melodies, piano and horns all pronounced over the thick drums snapping your neck. It comes on like an alternate take on "Bull-Dance", noisier, with a looser rhythm. The triumphant, shuffling Latin-jam "Exultation" leans on more scintillating vocals from Winstone, and a chunky counter melody from the rhythm section. It'll get you moving.
The final track, the haunting, twelve minute "Naxos", is an incredible way to close out this remarkable record. A circling bass guitar loop inspiring the group to a meditative psychedelic jazz rock improvisation in a silent, Miles kind of way, with a great flugelhorn solo from Carr and an ace synth climax.
This Be With edition of Labyrinth has been re-mastered from the original Vertigo master tapes, Simon Francis' mastering working together with Pete Norman's cut to weave their usual magic with these wonderful recordings. Another great Keith Davis sleeve has been restored in all its airbrushed Golden Age of comics, gatefold splendour. Complete with Minotaur of course.
* Tracklist:
A1 : Origins (2:57)
A2 : Bull Dance (8:17)
A3 : Ariadne (7:47)
A4 : Arena Part I (1:49)
B1 : Arena Part II (5:12)
B2 : Exultation (6:02)
B3 : Naxos (12:22
---
Share this Product
---