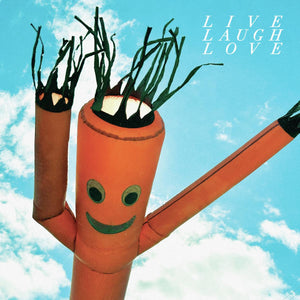 Chastity Belt
Live Laugh Love: Cloudy Vinyl LP
SSQ222LPC1
Regular price
£24.95
£0.00
Unit price
per
Tax included.
Shipping
calculated at checkout.
Pre-Order Item. Release Date Subject to Change.
Label: Suicide Squeeze
Release Date: 29th March
Maybe Chastity Belt get the top selling kitchen plaque mantra more than any? They've always been a band who have this vibe that is so alluring, just the most magnetic guitar sound, the right amount of lofi, a melancholy that just feels like a good pal making light of the matter. Good to have em back.
n their decade-plus together, the four-piece Julia Shapiro (guitar, vocals), Lydia Lund (guitar, vocals), Gretchen Grimm (drums, vocals), and Annie Truscott (bass, vocals)—have created a resonant body of work. Live Laugh Love is a natural continuation. Against the bizarre backdrop of the past few years, Chastity Belt remained a supportive space for the members to grow and experiment, drawing on the ingredients most essential to their process since the beginning: authenticity and levity. Recorded over three sessions in as many years (January 2020, November 2021 and 2022), the focus became more about enjoying their time together in the studio than making it feel like work. Their ease and familiarity with engineer Samur Khouja in LA, who also recorded their last album, made for a particularly enjoyable process. Once completed, they returned to renowned engineer Heba Kadry who mastered the album.
Album opener "Hollow" sets the tone with a gently driving rhythm while guitar layers stream like sun rays through an open car window. A warmth radiates through Shapiro's voice, even while grappling with feeling lost and stuck. "The older I get," Shapiro says of the lyrics, "the more I realize that I might just always feel this way, and it's more about sitting with the feeling and accepting it, rather than trying to fight it." That wisdom seems to anchor Live Laugh Love. Chastity Belt has never shied from navigating the spectrum of difficult emotions, and an existential thread weaves throughout the subject matter. And yet the songs feel more grounded than ever; there's a sense of quiet confidence and self-assurance that comes with being less numb and more present. Facing discomfort takes more fortitude, after all.
Live Laugh Love finds the members in their prime as musicians. Their parts trace intricate patterns over one another, but there's room to breathe between the layers. Everyone contributes to the writing, sometimes switching instruments, and for the first time, all four members sing a song. It's never been more apparent that they are creative siblings, cut from the same belt. "We've been playing music with each other for over a decade," says Shapiro, "so it really does feel like we're all fluent in the same language, and a lot of it just happens naturally."
"Laugh" seeks in the balm of friendship, aware of the anticipatory nostalgia that hits during a good time that you're already missing before it's gone; the heavier guitar tones on "Chemtrails" streak ominous chord progressions over Grimm's precision timekeeping, lamenting memories that won't fade easily. During a transitional time, Truscott came across a note in their phone that read, "it's not hard all day, just sometimes," which inspired a poignant line in the chorus of "Kool-Aid," their first song as lead vocalist on a Chastity Belt recording. Another standout, "I-90 Bridge" shines with a silvery melody that soars as Lund belts one of the most resounding moments on the album: "Tell your girlfriend she's got nothing to fear/I'm set in my head/My body's a different story." The track "Blue" saunters nonchalantly with a wink; you can almost hear Shapiro's smile as she sings "Faking it big time/So I can hit my stride/Man, it feels good to be alive," channeling early Chastity Belt channeling early '90s before channeling the late Elliott Smith in a spiral of distortion and insight: "Don't get upset about it/It's gonna pass/Tell all your friends about it/They're gonna laugh."  "We have such a strong sense of each other's musical inclinations" says Lund. "I think this allows for a lot of playfulness…we can kinda surprise each other, like a good punchline would."
---
Share this Product
---