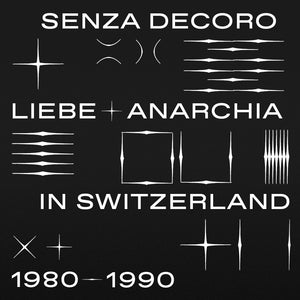 Various Artists
Mehmet Aslan Pres. Senza Decoro: Liebe + Anarchia / Switzerland 1980-1990: Double Vinyl LP
STRUT230LP
Regular price
£27.00
£0.00
Unit price
per
Tax included.
Shipping
calculated at checkout.
Pre-Order Item. Release Date Subject to Change.
Label: Strut
Release Date: 20th October
The best comps introduce to a scene or sound you were completely oblivious of, now I like to think I'm aware of the history of music but here's me only just being informed of Switzerland's rich post-punk, experimental and electronic scene? Here's me thinking they only concern themselves with multi-use knives and banking, when during the 80s they were making super sharp experimental pop music. Thank you Strut for putting this comp together and showing me the errors of my ways.
A new compilation explores the far reaches of the post-punk, experimental and electronic landscape in Switzerland on Senza Decoro: Liebe & Anarchia in Switzerland 1980-1990 curated by producer / DJ Mehmet Aslan.
During the mid-'70s, Switzerland had embraced punk within its cities, informing the subsequent post-punk era of the 1980s as music splintered into freeform musical strands across the whole of the country. It was to become one of the most innovative periods in Switzerland's modern day music history.
"It was like a wild laboratory for all forms of new and strange sounds, rackets and compositional experiments," explains writer Lurker Grand, "accompanied and inspired by cutting-edge developments in electronic musical instruments. A broad, innovative scene developed and the four different language and cultural regions of Switzerland were no longer perceived to be an obstacle. There was a curiosity for the foreign and the strange. Conflicts for freedom and free spaces took place and this was reflected in the music."
It was unfiltered creativity and this free, non-commercial approach is a common denominator for the songs on this compilation. Many artists operated in their own universe; hardly any of the acts on this album actually met each other at the time. Only Liliput from Zürich achieved notable fame, building on the success of their previous incarnation as Kleenex.
Although Swiss, some bands were based outside of the country and many brought in international elements to their music. Compiler Mehmet Aslan touches on this aspect; having grown up in Basel with Turkish heritage, he is now based in Berlin. His selection travels deep into obscure musical corners. Grand continues: "Mehmet's selection is expansive. Christian Pfluger from Die Welttraumforscher sings about moon folklore, Jürg Nutz about a labyrinth, while Dr. Chattanooga & The Navarones found inspiration through African marabout business cards."
Released as a gatefold LP and digipak CD, Senza Decoro includes two exclusive edits by Mehmet Aslan. Both formats feature in-depth sleeve notes and band interviews curated by Lurker Grand alongside rare photos and original sleeve artwork. The compilation is mastered and cut by The Carvery. Compilation and artwork courtesy of Mehmet Aslan.
1. Dr. Chattanooga & The Navarones – Kabyl Marabù
2. Mittageisen - Anfang
3. Elephant Château – Wir Fangen Mit Arbeit An
4. UnknownmiX – Nightmare
5. Aboriginal Voices – Le Jour L'Ennui
6. Café Türk – Söyledir
7. Lilliput – Boat-song
8. Bells Of Kyoto – Asho II
9. Schamanen Circel – Arbeiter (The Worker)
10. El Deux - Gletscher (Mehmet Aslan Edit)
11. KonX - …Basic Ground Without Voice… (Mehmet Aslan Edit)
12. Jürg Nutz – Labyrinth
13. Schaltkreis Wassermann – Arabesque
14. Die Welttraumforscher – Mondfolklore
15. Christine Scaller – L'Ombre Dorée du Scarabée Bleu
---
Share this Product
---