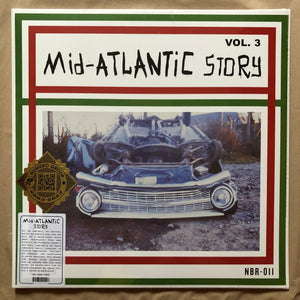 Various Artists
Mid-Atlantic Story Vol. 3: Tr-Colour Vinyl LP
NBR011LP-C1
Regular price
£21.00
£0.00
Unit price
per
Tax included.
Shipping
calculated at checkout.
Label: Numero 
Release Date: 7th April
You cannot beat a good soul compilation like
Numero's 'Mid-Atlantic Story (Vol. 3)'
. It's a low-rider mixtape of doowop, swinging northern soul, ballads and obscure 45 cuts that are all hidden gems of another time. A perfect comp this.
For the lowriders, the souleros, and for any armchair drag racer who still has a record player within reach, Mid-Atlantic Story pays tribute to the aftermarket sounds of soul music, inspired by the record industry's metric trunkload of cruising compilations, legitimate and otherwise, that soundtracked an entire subculture. This getaway ride mixtape strips aesthetics from the timeless East Side Story series, and poaches music from the greater Chesapeake Bay region. Roll with a jacked-up masterpiece.
dream team - there he is
chapells - me
jack & the mods - one is enough for one
skip mahoaney and the casuals - i need your love
mixed breed - gotta go home
al glover and gloria - till the end of time
father's children - i really really love you
the positive sounds - i almost blew my mind
summits - let's do it over
jato von del - just a few steps up the isle
the edge of daybreak - our love
---
Share this Product
---