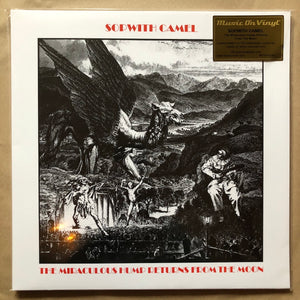 Sopwith Camel
Miraculous Hump Returns From The Moon: White Numbered Vinyl LP
MOVLP3240C
Regular price
£29.00
£0.00
Unit price
per
Tax included.
Shipping
calculated at checkout.
Label: Music on Vinyl
Release Date: 10th February
Who is to say what is 'overlooked' or not? Like what is over/underrated it's the catalyst for boring debate but Sopwith Camel are a psych rock, jazz rock, krautrock and also sweet west coast folk band from 60s-70s San Francisco that deserve more ears. It's an accessible psych with elements of Crosby's after-a-smoke childlike wonder but also smokey flutes wit an element of grandeur with strings and krautrock jams. 
• 180 GRAM AUDIOPHILE VINYL
• GATEFOLD SLEEVE
• FEATURES "FAZON", "ORANGE PEEL" AND "COKE, SUEDE AND WATERBEDS" A.O.
• LIMITED EDITION OF 750
INDIVIDUALLY NUMBERED COPIES ON WHITE COLOURED VINYL
The American psychedelic rock band Sopwith Camel formed in the late 1965 and is best known for being the second San Francisco band to get a recording contract with a national record label and the first to have a Top 40 hit, with "Hello, Hello". The band only released two studio albums, their self-titled debut album and follow-up The Miraculous Hump Returns From The Moon in 1973. The latter being released on Reprise Records and features the popular tracks "Fazon", "Orange Peel" and "Coke, Suede And Waterbeds". The album takes in elements of FM schmaltz, prog-rock, jazz, showtunes, Krautrock and Indian classical music.

The Miraculous Hump Returns From The Moon is available as a limited edition of 750 individually numbered copies on white coloured vinyl, housed in a gatefold sleeve.

SIDE A
1. Fazon
2. Coke, Suede, And Waterbeds
3. Dancin' Wizard
4. Sleazy Street

SIDE B
1. Orange Peel
2. Oriental Fantasy
3. Sneaky Smith
4. Monkeys On The Moon
5. Astronaut Food
6. Brief Synthophonia

---
Share this Product
---