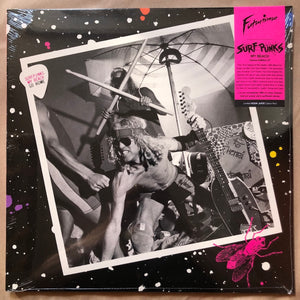 Surf Punks
My Beach: Kook Juice Colour Vinyl LP
FTRSMO47A
Regular price
£34.00
£0.00
Unit price
per
Tax included.
Shipping
calculated at checkout.
Label: Futurismo
Release Date: 6th October
These punks sure love to surf, it's all they go on about, the culture of the beach including bad surf etiquette, beach chicks, dummies on the beach, drinking cans on the beach, hanging out the beach... just living the Surf Punk life. 'My Beach' is an absolute gas, pure Devo meets Ramones meets a cartoon 80s surf dork power punk fun.
LP in KOOK JUICE Vinyl (Neon green marbled with black)
Gloss laminated outer sleeve
Fold-out poster with lyrics
Surfboard sticker
Futurismo present a first time reissue of the classic 1980 album My Beach by those 'spoiled brats from Malibu' - the obnoxious and irreverent Surf Punks.
You'd be forgiven for thinking this album was made years later in the decade, ahead of it's time in both sound and style, but this was surf rock designed for the 1980's: anarchic and in your face, a beach bound punk satire with tongue firmly in cheek. Surf Punks kick My Beach off with it's famously catchy title track, letting you know exactly where they're coming from with their mantra "my beach, my chix, my waves, go home!". The band were real life hardcore surfers and partly as wry humour and partly observation, a reoccurring attitude of localism permeates the record as the Surf Punk 'Locals' are pitted against their wave stealing enemies, the 'Valleys', San Fernando out-of-towners chastised for living beyond the beaches 2 mile limit. Like a pop punk fuelled West Side Story set in California, the tracks stick in your eardrums long after listening not only due to the wild lyrical content, but also the quality song writing chops of the main duo Dennis Dragon and Drew Steele who knew how to pen the 'Ramones go West' hooks needed for their brand of new wave pop.
On stage the band committed fully to the beach life concept, constructing a full size lifeguard tower, as singer Drew would ride the stage on his Skatar - a custom designed skateboard affixed to a Fender Stratocaster neck and pickups. The band were so committed to surfing in fact, that rumour has it they were dropped by their record label for not turning up to a big show because the waves were just too good to miss. Surf Punks were the real deal.
My Beach is unmistakably a product of the 80's, it is about being young and having fun, the era's dialogue of devil-may-care, neon splashed, good times may have became oversaturated in the succeeding years, but Surf Punks were doing it first. If you are looking for the soundtrack to your summer, or are just down for the sounds of surf rock, new wave and SoCal punk, My Beach is essential. For fans of Descendents, Ramones, Agent Orange and Devo.
The remastered version of this never before reissued LP comes in limited edition coloured vinyl. It is packaged in a gloss laminated sleeve with redux artwork and colour inner sleeve. It contains a fold-out poster with lyrics and surfing term glossary - plus a surfboard sticker!
Tracklist
My Beach
My Wave
Teenage Girls
Shoulder Hopper
The Dummies
Beer Can Beach
Surfer's Nitemare
I Live For The Sun
Meet Me At The Beach
Big Top
Somebody Ripped My Stick
Letter From Hawaii
The Surfmen
Can't Get A Tan
The Surf Instructor
Punch Out At Malibu
Bird Bathroom
---
Share this Product
---