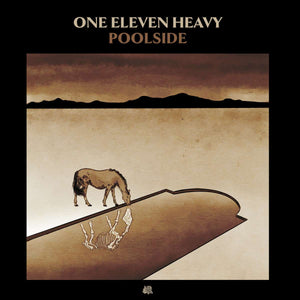 One Eleven Heavy
Poolside: Vinyl LP
LPKITH004
Regular price
£23.00
£0.00
Unit price
per
Tax included.
Shipping
calculated at checkout.
Pre-Order Item. Release Date Subject to Change.
Label: Kith & Kin
Release Date: 2nd December
Can I shock you? I like the Grateful Dead, yes, I run a record shop, have a beard, have had a moustache, owned a poncho and boots with the heels and flairs likes The Dead. I like Bobby Dylan too and also The Band, yup Crazy too. Guess I also like One Eleven Heavy, the kindred spirits, who do their turn on that sound so well you'd think this was record in 1970.
Formed in 2016 by transatlantic buds Nick Mitchell Maiato and James Toth, One Eleven Heavy is a band designed as a Venn diagram of the pair's shared musical loves
Crazy Horse, Grateful Dead, and Dylan come to the fore when listening to their joyful third album, Poolside, but the influences go much deeper. Toth says, We were lucky to have our touring drummer, Jake Morris (Stephen Malkmus & The Jicks) at the ready to play drums. Nick's pal, the fantastic Guy Fowler, plays bass on the record. Guided by mysterious producer Colin Sick, One Eleven Heavy spent a year writing and recording the tracks that form Poolside, an album that feels like a gothic western romp through cartoon dreams of escaped criminal ciphers ( Tyrant King ), rebound coke binge recollections ( Rizzo In The Wig ), and tales of sasquatches crossing state lines ( Bama Yeti ).
---
Share this Product
---