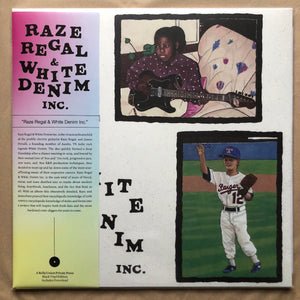 Raze Regal & White Denim Inc.
Raze Regal & White Denim Inc.: Vinyl LP
BELLA1539V
Regular price
£24.00
£0.00
Unit price
per
Tax included.
Shipping
calculated at checkout.
Label: Bella Union
Release Date: 26th November
Sweet musicianship gods thank you for this union between Raze Regal of space prog psych rockers Once and Future Band and James Petralli of the uber versatile jam and vibes collective White Denim. Together they've formed a majestic ball of breezy jazz yacht rocking space funk.
Sometimes, even amidst the most chaotic moments of our lives, things have a way of coming together. Raze Regal, prolific electric guitarist and James Petralli, founding member and vocalist of Austin, TX  indie rock legends White Denim, met during a West Coast tour in 2019, and quickly formed a deep friendship bound by their mutual love of '60s and '70s rock, the Jazz saxophone innovations and compositions of Eddie Harris, Joe Henderson and Wayne Shorter, '80s R & B production techniques and New Wave energy. In another world, perhaps their rapport would have remained casual; two music fans meeting occasionally in loud music venues to share a drink and catch up on their respective projects. However, and luckily for music fans everywhere, that's not what happened. What followed for both men was a period of intense personal change, growth, and transformation—a period that is reflected in the creation of Raze Regal & White Denim Inc., a profoundly collaborative album that saw both musicians pour years of blood, sweat, and tears into some of the most soul-affirming music of their careers. 
"It was a very hard time for both of us," explains Raze matter-of-factly, from his home in Austin. He relocated there in 2020, smack dab in the middle of the pandemic, after ending a long-term relationship and the dissolution of his previous band back in Oakland, CA. "This record was born out of the friendship and the closeness that James and I share, as well as pure creativity." With Raze in serious need of a change of scenery, Austin and James provided just the right atmosphere to let his creative juices flow a little more freely. "James and I were talking and he was like, 'Come up to Austin!' and I was like, 'Maybe I should.' We would just kind of hang out in those early days, and then I started kind of writing these tunes, and I started presenting them to James. They were just sketches of ideas I had, and he was like, 'You know these are really good. What if we worked on these together?' And I was like, 'Absolutely.'
It wasn't long before the duo realized they had something special on their hands. It was more than just the fact that they were good at writing songs together—there was something deeply complementary in the way Raze and James thought about music and songwriting that made them better than the sum of their parts. The work took place at Radio Milk, James' studio, curious to see what would come out of it; although, the process proved to be slightly more intense that either of them had imagined. "The week Raze arrived in Austin he joined my family/creative bubble, and we began writing and cutting music together," explains James. "Through these initial sessions I learned that Raze possesses a unique gift as a lyricist and songwriter as well as a striking and colorful chord vocabulary. He naturally led these writing sessions and I supported him as an editor, instrumentalist, and engineer. We quickly developed an easy flow together in the studio. Which was refreshing for both of us. These were particularly hard times: Raze and I became close friends and helped each other get to the other side."

The result of these summertime sessions, Raze Regal & White Denim Inc. bursts at the seams with jazz chords, rock hooks, soul vocals, pop melodies, and everything that made the latter half of the 20th century some of the most cardinal music in human history. Completely eschewing the trappings of "retro" or "throwback" sentiments, the record could have only come from artists with such a deep knowledge of popular music, that they are able to transcend references and homages, presenting something comfortably familiar yet totally fresh. Raze and James' creative union took form before their very eyes, with James at first wanting to take more of a backseat role—but luckily, fate had other plans. 
"Raze was bursting with musical ideas during a time when I was focused on learning how to capture and represent them," James says, clearly holding his bandmate in the utmost respect. "He wrote the changes for the songs and we cut demos together and he'd sit with a note pad and sketch lyrical ideas once the framework was down. I did my best not to impose too much as a writer, rather mostly offering perspective as a singer and sometimes pulling a few books off of the shelf for consideration and reference. Raze was writing about our lives. We knew well where we were coming from."
---
Share this Product
---