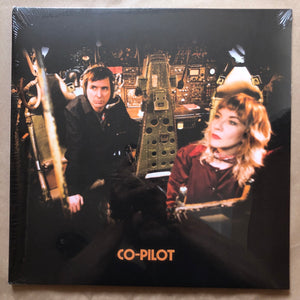 Co-Pilot
Rotate: Violet Vinyl LP
EDDA62LP
Regular price
£20.00
£0.00
Unit price
per
Tax included.
Shipping
calculated at checkout.
Label: Dell'Orso
Release Date: 28th July
This record is a real cosmic quilt, each square unique, whether it's bouncy anolog synth pop, or space rock, tropicalia, squelchy musique concrete, zingy fuzz folk or glacial astro disco it all belongs in the same space, it works. One of the finest psych-space-tropicalia-cosmic-chamber-library-synth-pop record you'll hear all year.
For those who dig: the duo's other projects with Jim Noir, International Teachers of Pop and Soundcarriers.
After taking time out from working together to focus on separate musical projects, maverick composer Alan Roberts (Jim Noir) and crowd-rousing vocalist Leonore Wheatley (International Teachers of Pop / The Soundcarriers) have re-joined forces to introduce Co-Pilot. Each the other's wing person, they're plotting an escape through Manchester's claustrophobic grey skies with the pencil case colour of a hand-sewn multi-coloured primary school patchwork quilt. "We are both the creators in charge of navigating Co-Pilot's overall sound which changes from track to track," Leonore hints at what to expect. "There are about 6 different genres on one album, it's a pick n mix record!"
Happy in the haze of many boozy hours the album was recorded over just a few months whilst holed up and hanging out in Al's city centre Dookstereo studio. The former Mill allowed the pair to relax, laugh and create without constraint. Armed with their original demos and vocal recordings from Al's flat, they'd nip by the offie to pick up some Dutch courage before setting to work: building arrangements from a drum beat and basic chord pattern, the pair were so in tune they rarely spoke, allowing only the music to lead the way. "We'd communicate through nods of agreement or grimaces of dismay," Leonore recalls. "Using the instruments with Al in production mode, we let the sound dictate the process whilst being drunk enough to follow it."
The sound of life coming full circle after honing their separate crafts, Leonore had previously played keys and vocals in Jim Noir's live band before moving on to front International Teachers of Pop for two critically lauded albums of joyous dancefloor filling bangers - their self-titled debut (2019) and Pop Gossip (2020). During that time Al would further expand Jim Noir's universe with AM Jazz, which was celebrated as the no.1 album in Piccadilly Records' 'End of Year Review' (2020), followed by the Deep View Blue E.P. (2021) cementing his status as one of Manchester's finest songwriters.
As Leonore added her vocal magic to Al's early demos of what would eventually become Co-Pilot's 'Spring Beach' and a crooked original version of closing track 'Corner House', the vibe was prophetic "like the ending of Grease as Danny and Sandy take flight through the clouds", letting their imaginations fly. The songs were the catalyst to spark a new phase of the pair working together, picking up where they left off. "From messing about with sounds during rehearsals in the very beginning it was always clear we liked the combination of sounds we made," Leonore recalls.
Powered by a 'try anything' approach, Co-Pilot blends the musical DNA of what you've come to expect from each of the pair's previous flight paths. "Whatever is switched on or nearby gets used. There's no 'correct' for us. If it sounds good, record it," Al tells. United through typically turbulent wonky pop and lurking samples, whether culled from 70s TV themes or recreations of past and found sounds (see Al's 60s tropicalia guitar on 'Brick', or the innocent 'Swim to Sweden' which opens with an ice cream van jingle Al recorded from his bedroom window) their process offers up a bucket load of Easter eggs. The album even features snippets from dearly departed pal Batfinks whilst 'Motosaka' is perhaps the most expensive 2-minutes on the album, featuring a Columbia Records Japan-cleared sample of Ryuichi Sakamoto's 'Thousand Knives'. Its synth squelches and Tom Tom Club funk also received the blessing of Haroumi Hosono, Godfather of Japanese Electronica, who agreed to being sampled in an original version of the song. "We just kept listening back and hitting gold," Al recalls. "I was thinking 'yeah, not sure what this is but I like it! We were buzzing with what we had made."
But the sound wouldn't come without self-imposed instrumental challenges. Thanks to an old mellotron sample on 'Move To It,' the moog riff and nautical accordion breaks on 'Swim To Sweden' and the 6/8 and 7/8 jaunt of 'Brick', time signatures were lovingly skewed to create Co-Pilot's unique mood. "It was a bastard getting the drums right," Leonore reveals, "but I like the wonkiness". Levelling up through the lyrics, the words of smoky and evocative 'She Walks In Beauty' are based on a Lord Byron poem, with the sentiment of remembering Leonore's late grandparents. "I wanted to see how much I could get away with just singing on one note, and how I could harmonically change everything else around it vocally," she says. Elsewhere 'Can You See' was written from the perspective of a concerned sister to a brother which tells of keeping someone safe. "The lyrics are quite metaphorical about day-to-day happenings, people loved and lost. Others are rhythmic nonsense! It's up to the listener to figure out what's true."
It's clear from Al's productive production techniques and Leonore's knack for vocals and lyricism, Co-Pilot's course is engineered by two aeronautically adept sonic storytellers. "We share a pretty similar sense of humour," Al tells, "It is funny listening to this quite serious album but knowing we were giggling as we recorded it all. It's been great to have another brain to bounce off." Their destination might be unknown, but the clouds are about to part for a sound that is light years ahead. "You'll like at least one song," Leonore suggests, "and hopefully them all."
---
Share this Product
---