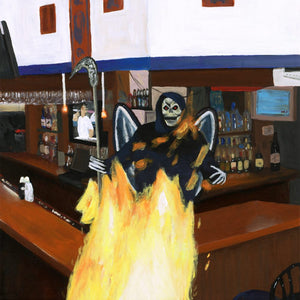 MJ Lenderman
Rudolph: 7" Vinyl
880137
Regular price
£10.00
£0.00
Unit price
per
Tax included.
Shipping
calculated at checkout.
Pre-Order Item. Release Date Subject to Change.
Label: ANTI
Release Date: 3rd November
Know what's mad exciting? MJ Lenderman. Getting better and better my friend, signed to ANTI now and he's upping it on this single to celebrate the fact he cannot stop writing bangers. 
His music strikes right to the heart, it's got a crunchy grunge to the country and the lyrics are just real life amped a little and felt just that little more.
*discount not valid on this product
MJ Lenderman--Asheville, NC's effortlessly disarming singer-songwriter and guitarist of the band Wednesday--announces his signing to ANTI- and presents a new single/video, "Rudolph"
"Rudolph" marks Lenderman's first new music following the release of his breakthrough 2022 LP, Boat Songs, which was released to a wealth of praise and deemed one of the year's best records by Pitchfork, Rolling Stone, NPR Music, Paste, and many others. Lenderman comments, "'Rudolph' was the first song I wrote after the release of Boat Songs. I had been sitting on the guitar part for a long time and slowly worked out the song whenever I could in between tours in 2022. I finished the lyrics with my friend one late night after a Wednesday gig in Atlanta."
"Rudolph waking up in the road / Dew dripping off his red nose / Blue and black tire track torn / Through a beautiful doe" repeats the chorus, highlighting Lenderman's juxtaposition of the gentle and the extreme.
---
Share this Product
---