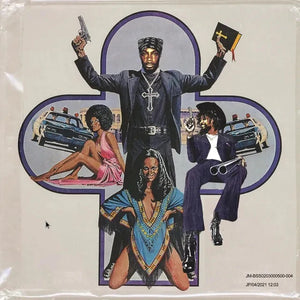 JPEGMAFIA & Danny Brown
SCARING THE HOES: White Double Vinyl LP
JP202
Regular price
£31.00
£0.00
Unit price
per
Tax included.
Shipping
calculated at checkout.
Pre-Order Item. Release Date Subject to Change.
Label: Wax Bodega
Release Date: 22nd December
Two modern auteurs of hip hop with a dream collaboration and delivering one of the hip hop records of the year, loaded with wrestling references, heavy beats, moments bordering on psychedelic dream pop and broad palette of samples to pair with the pairs frenetic and off-kilter lyrical and rapping styles.
On the rap internet, "scaring the hoes" has become code for a certain type of hip-hop: anything abrasive or weird or super-lyrical, designed for repeat close listening. More broadly, the phrase has evolved into a euphemism for any rap considered unfit for a party or similar social setting. To play Death Grips at the function is to scare the hoes. Born from a meme of existential non sequiturs, the distinction is less about what women might actually enjoy listening to casually and more about guys missing common cues, not understanding that there is a time and a place for a specific kind of artist, one that might disrupt the natural flow of a gathering, or worse: something so intrusive or annoying that the most important patrons might leave.
JPEGMAFIA and Danny Brown are easy first-round picks for this category — craft-first eccentrics with singular catalogs that demand some recalibration of the ear. But on their new collaboration, it's clear the two rappers see that innocuous plea to simply let the Rap Caviar playlist run as something more sinister: a capitulation to homogenous, mass-produced music, fodder for revelers who couldn't begin to care about the form. Their mission is laid out flat on Scaring the Hoes' title track, with Brown pantomiming the breathless exploitations of a money-grubbing music executive: "Said it ain't about the bars 'cause it's all about the brand / Say it ain't about the art, 'cause it's all about the fans / Give a f*** about a fan, put the money in my hand." In response, the pair of MCs agree to embrace the pejorative as a challenge, delivering a hyperactive album that is as gratifying as it is overloaded, a truly jarring and yet refreshingly in-your-face display of restorative rap that refuses to go unheard.
---
Share this Product
---