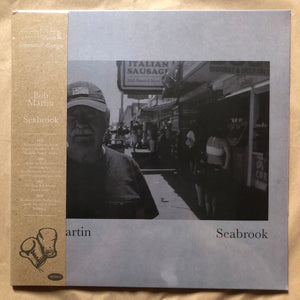 Bob Martin
Seabrook: Vinyl LP
WS012
Regular price
£22.00
£0.00
Unit price
per
Tax included.
Shipping
calculated at checkout.
Label: Worried Songs
Release Date: 19th May
Bob Martin produced country funk, worked on Numero country records and released a forgotten country folk rock banger in 1972's 'Midwest Farm Disaster' (check it) and became a low-level cult figure, a songwriter's songwriter. His shelved 2008 album finally sees the light of days in 2022, it's raw but with an added rolling thunder country rock backing its a record that stands up next to some of the best folk rock records of the 70s. 
For those who dig: honestly if you love Neil Young and Dylan it's for you. If you loved that John Fizer reissue this is for you and the Alan Wachs Numero reissue, Michael Chapman...
Bob Martin began what would become his final studio album in a beach front condominium in Seabrook, New Hampshire in May 2008. The recordings sat dormant for the next 13 years.

This album began when James Endeacott of 1965 Records sent Jerry David DeCicca to Charlottesville, Virginia to meet Martin, hoping to reissue Martin's 1972 debut on RCA Records, Midwest Farm Disaster. DeCicca, who had co-produced the final recordings of folk-funk, Heartworn Highways' songwriter, Larry Jon Wilson, for 1965 Records (and later reissued by Drag City Records) had played the LP for Endeacott several months earlier. Midwest Farm Disaster is that rare album that feels joyful and yet full of sorrow; Martin's Lowell, Massachusetts voice yearning with a backbeat from Nashville session musicians, Norman Putnam and Kenny Buttrey, the later fresh from his "Heart of Gold" session. The reissue never happened, as Martin was already in the process of rescuing his forgotten masterpiece for his own self-release. But Bob and Jerry's breakfast led to Martin's daughter, Tami, hiring DeCicca and engineer, Jake Housh, who also worked on the Wilson album, to capture her father in a similar manner.

After Midwest Farm Disaster, a second album for RCA was under contract, but when a record executive there wanted Martin to put his girlfriend's poetry to music, Bob bailed on the deal. Martin continued to tour around with a pickup band until advice from his father resonated, and he left the road to raise a family. Bob worked as an educator, teaching math and computers, and even founded a school in West Virginia that taught traditional art forms in Appalachia like fiddle playing and weaving.

Bob returned to the studio in 1982 to record Last Chance Rider for the June Appal, a label that focused on music from Appalachia and had released albums by Nimrod Workman, Si Kahn, and Betty Smith. In the late-90's, Bob returned with two self-released CDs, The River Turns The Wheel and Next to Nothin' that continued capturing stories of people and places that exhale their own mythologies. He wrote novels, cared for his family, and taught, and played only the occasional gig. But it's this album, Seabrook, that finds Bob at his most wise and wistful; the histories of Lowell and his own life hanging longest in his voice. New songs about the West Virginia coal mines ("Three Miles Beneath This Mountain") and living in an extended stay motel ("Midway Motel") sit beside new and more urgent interpretations of late period classics, like "My Father Painted Houses," and, for the first time, one of his oldest songs he didn't record for Midwest Farm Disaster called "Give Me Light."

After DeCicca and Housh returned from the beach with Bob, they all agreed to flesh out the songs with other instrumentation to present as a draft for what the new record could be with a little more money and time. This was the time when the epilogue of musicians' work was still of interest to labels. Everyone with a guitar over 65 was still in the shadow of Rubin's Cash, and recent records by Loretta Lynn, Charlie Louvin, Soloman Burke, and Candi Staton were both fashionable and profitable. But Martin wasn't as well known and his classic debut was only licensed for a limited physical release, proving him a difficult sell. Labels passed or made unreasonable requests, and Bob eventually lost interest; instead, choosing to record a solo acoustic live album, Live at the Bull Run, and tour Europe for the first time. There were hiccups of hope, like a feature in No Depression and a song in the TV show, Justified, but the new recordings quickly began collecting dusk.

In the meantime, DeCicca continued producing records for other older artists, like Ed Askew's For the World (Tin Angel), two Chris Gantry releases (Drag City), Will Beeley's Highways and Heart Attacks (Tompkins Square), and reissue projects for the Numero Group (Elyse Weinberg, Rob Galbraith). Then, in 2021, DeCicca received a call from Bob's daughter, Tami, giving him permission to finish the album as Bob's health was failing. Upon revisiting the tracks with Housh, the album needed very little tidying up and the songs were completed with DeCicca's former bandmates, The Black Swans, who had previously played on the original mock up back in 2008. With new technology and a new perspective, the album was completed, but not before Martin's health had deteriorated more.

Bob Martin passed away September 21, 2022 at 80 years of age. Sadly, he never heard his final album.
---
Share this Product
---