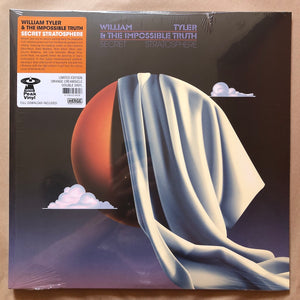 William Tyler & The Impossible Truth
Secret Stratosphere: Orange Creamsicle Double Vinyl LP
MRG796LPC1
Regular price
£36.00
£0.00
Unit price
per
Tax included.
Shipping
calculated at checkout.
Label: Merge
Release Date: 31st March
I lovelovelove William Tyler and could listen to cosmic country noodles for days but there's always been part of me that's thought 'I'd love for him to let RIP', well it seems like Willy and bandThe Impossible Truth have been reading my simple mind because 'Secret Stratosphere' is a whole dimension of rippers. Of course it's cosmic but it's buckled in for launch and cruising down an intergalactic highway on it's way to Kosmiche City.
For those who dig: Grateful Dead, Hawkwind, Country Rock Rippers going Cosmic
ecorded live at Yellowhammer Brewing in Huntsville, Alabama, in May 2021, Secret Stratosphere finds William Tyler and fellow psychedelic dreamers The Impossible Truth refashioning prime cuts from the Nashville guitarist's rich catalog, casting new light onto once-familiar songs. Featuring the crackling combo of Jack Lawrence (Raconteurs, Dead Weather), Brian Kotzur (Silver Jews, Country Westerns), and Luke Schneider (solo, Margo Price), the quartet stretch the dynamics of Tyler's compositions to their fullest interdimensional potential, exposing a deep undercurrent of kosmische and post-rock influences (with the right amount of grit from the nitrous corner of the Dead Lot). In teasing these influences out on favorites and new songs alike he cheekily calls closer "Area Code 601" a "Hawkwind meets Charlie Daniels Band number" before sending the crowd home on a previously unreleased stunner that lives somewhere between mind-expanding prog and beer commercial–backing Southern rock Secret Stratosphere confirms William Tyler's place as one of our most brilliant guitarists, bandleaders, and composers.
---
Share this Product
---