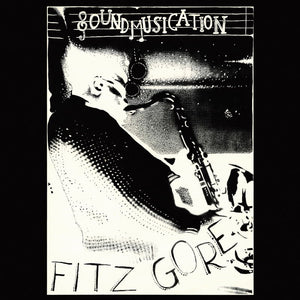 Fitz Gore
Soundmusication: Vinyl LP
SONOL115
Regular price
£27.00
£0.00
Unit price
per
Tax included.
Shipping
calculated at checkout.
Pre-Order Item. Release Date Subject to Change.
Label: Sonorama
Release Date: 22nd July
The third and final album from Jamaican saxophonist low-key genius Fitz Gore and in our ears probably his finest recording. You'll find fewer records from the late 70s that have such a blend of the spiritual, the gospel, otherworldly use of synths in an almost soulful new age way and elements of space-funk. THIS IS GOOOOOOOOD.
For those who dig: Tribe Records, Black Fire, Black Jazz... the experimental jazz fusion and spiritual labels.
"Soundmusication" is the third and final album by Jamaican born tenorist Fitz Gore, another rare and beautiful spiritual jazz LP from the late 1970s. "Fitz had a very deeputopian faith in the right music, which could change the world and develop a real condition of peace, because it was supposed to move people's feelings and actions to spiritual truth. He was convinced that music owned the healing power of the world" (Ulrich Kurth). Other players include Lukoki Mampasi on electric piano, Obama Ngomo on bass, Emmanuel Dipanda on drums or Gil Nguema on guitar. They really open the door to let the leader do such amazing things on his horn. First reissue remastered in 2022, comes with original artworks and the bonus track "Gisela (Lion Rock)".
"Greetings. Soundmusication is my third Long Play Record. Audibles hereof are self-attesting. Earlier emissions are traceable on GorBra Records - two LPs and one EP - the Talismen. Here are four musicians Africaine, one North American (renown bassist, Wilbur Little), one Italian, one Spanish, one Dutch and I (Jamaican). Let the appropriatives of this circle go as they will. Barco Salida. Farewell." (Original sleeve notes by Fitz Gore).


"Soundmusication" is an impossible to find spiritual jazz LP from 1980, privately pressed on Fitz Gore´s own Gorbra label and reissued here for the first time. It is the third and final album by the Jamaican tenor saxophonist, that was carefully remastered in 2022 and comes with the bonus track "Gisela (Lion Rock)", pulled from his rare and only 7inch single "Soundnova".

The first two LPs, recorded earlier with his group "The Talismen", were already reissued on the Sonorama label in 2021 ("Soundnitia" and "Soundmagnificat"). This last record presents a new and highly international line-up of musicians, including Lukoki Mampasi on electric piano, Obama Ngomo or Wilbur Little on bass, Emmanuel Dipanda on drums, Gil Nguema on guitar and Michele P. Zanardi on solo organ.

Gore was a tenor saxophone player and singer born in Jamaica August 8th 1935. He came to Europe in the early 1950s and travelled to various locations. After visiting London and Copenhagen. he moved to Paris, where he met jazz legends such as Mal Waldron, Dexter Gordon, Johnny Griffin or Jimmy Woode.before moving to Bonn, the capital of West Germany, together with his wife Gisela.

Here Gore's collaboration with the pianist and later musicologist Ulrich Kurth began. They played their first duo concerts in Bonn, later also in Strasbourg and Paris. During an extended stay in the French capital they urged their friends there, drummer Philippe Zobda-Quitman from Martinique and Moroccan-born bassist Gérard Ebbo, to move to Bonn and form a quartet. Then they founded the so called "Talismen" consisting at various times of musicians Gore, Kurth, Ebbo and Zobda-Quitman, plus Lukoki Mampasi (piano), Jochen Paul (vibes), Lamont Hampton (congas) or Janos Sudy (drums and gamelan).

When Gore produced the four releases on his label between 1975 and 1980, he really felt at home in Bonn. Together with his wife Gisela he organized the Talismen concerts. To be independent from the music industry, they designed their own artworks and released all the records themselves. Fitz and Gisela also distributed their tiny editions to specialized stores or sold them directly at concerts. They also realized their own recordings, with the friendly help of musicians or friends such as Michele P. Zanardi, Peter Roesberg and Ernst von Hagen.

Fitz admired the singer Paul Robeson and had a similarly deep and warm singing voice. During concerts he put the saxophone aside from time to time. Then he sang spiritual and gospel songs as well as secular songs, accompanied by the reduced sound of the organ. Among his favorites were "The Very Thought Of You" (presented here) and "Steal Away" (which can be heard on the LP "Soundmagnificat"). Again and again he read self-penned poems during his performances, thus cultivating an old tradition of his homeland.

The bonus tune "Gisela (Lion Rock)" is titled after (and dedicated to?) Gore's wife, and was recorded in sunny Tenerife in March 1978. It is another example of the tenorist's narrative playing with his passionate ensemble The Talismen. The recording was originally released the same year in tiny amounts only, as the only 7inch single on the GorBra label. "Soundmusication" remains the last album by the Talismen's "shepherd", who suddenly passed away in Bonn in 2002 due to heart failure.


"Ekkehart Feischammer's reissue focused Sonorama label is renowned for the depth of its digging, so it's little surprise that their latest reissue is an ultra-rare gem. As this timely reissue proves, the set remains an underheard classic. Gore is undoubtedly the star attraction, delivering emotive, often heart-aching solos whilst also showcasing his deep, rich voice. The album seems to hit new heights with each successive cut." (juno.co.uk in 2020 about Gore's second album "Soundmagnificat")

"The set has Fitz stretching out with a very deep tenor sound, one that almost sounds like a baritone at points - with a richness that almost feels as if Coleman Hawkins was stepping into spiritual jazz modes in the 70s, especially given the way that Gore can swing inside and out within a single tune - with odd inflections, very unique phrasing, and other elements that can transform even familiar tunes." (dustygroove.com in 2021 about Gore's debut album "Soundnitia")
Recorded June, 1979 / August, 1979 / January, 1980 by Ernst von Hagen and Michele P. Zanardi
* Recorded March 1978 and mastered by Peter Roesberg
Original LP released 1980, * bonus track from vinyl EP "Soundnova", released 1978
General supervision: Gisela Braasch
A1 Musication (The Talisman) (1)
A2 Revival Time (Nella's Farewell) 8:03
A3 The Very Thought Of You
B1 Musication (The Talisman) (2)
B2 Nora (Soul-O)
B3 Pelatiah (Sealed And Signed)
B4 Gisela (Lion Rock)
Tracks 1, 2 & 4: Fitz Gore (Tenor Saxophone), Lukoki Mampasi (Piano), Gil Nguema (Guitar), Obama Ngomo (Bass)
Emmanuel Dipanda (Drums), Manuel Martin (Tambourine, except on tracks 2 & 7),
Track 3: Fitz Gore (Vocals), Michele P. Zanardi (Organ),
Track 5: Fitz Gore (Tenor Saxophone), Nedly Elstak (Piano), Wilbur Little (Bass)
Track 6: Fitz Gore (Tenor Saxophone), Michele P. Zanardi (Organ),
Track 7: Fitz Gore (Tenor Saxophone), Michele P. Zanardi (Piano), Gérard Ebbo (Bass),
Federico Alvarez (Drums), Emmanuel Dipanda (Congas)
---
Share this Product
---