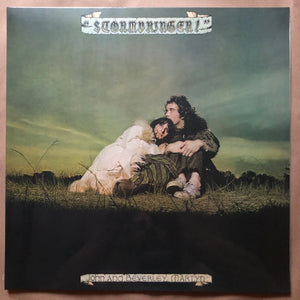 John and Beverley Martyn
Stormbringer: Vinyl LP
UMCLP053
Regular price
£24.00
£0.00
Unit price
per
Tax included.
Shipping
calculated at checkout.
Label: Proper Records
Release Date: 28th July
John and Bev's first of two records, as the two both move into a more folk rock direction and pick up some influences of American roots with ya boi Levon Helm from the Band on drums. There's a beautiful otherworldly mystique on this record which would carry through onto Martyn's later releases.
A complex and sometimes belligerent character in real life, on record, John Martyn was the epitome of the folk-dreamer, embodying the spirit of the bourgeoning London acoustic scene of the late 60s. Well-known and respected for his 70s albums Solid Air and One World, this is where it began.

John Martyn met Beverley Kutner and the pair married in 1969. Kutner was a dazzling folk singer who had been invited by Paul Simon to sing on Simon & Garfunkel's Bookends album. It was obvious that two such talents united in love should also unite in music. Stormbringer! – produced by Joe Boyd – was the first of two albums billed to both of them. Recorded in Woodstock, the album featured The Band's Levon Helm on drums on Beverley's standout, eight-minute long Sweet Honesty. Not to be overshadowed John also contributed John The Baptist, one of his career highlights, with Beverley adding sweet backing vocals.

This re-issue faithfully replicates the original 1970 Island Records UK release and is pressed onto high quality 180g vinyl.

Tracks:
Go Out And Get It
Can't Get The One I Want
Stormbringer!
Sweet Honesty
Woodstock
John The Baptist
The Ocean
Traffic-Light Lady
Tomorrow Time
Would You Believe Me?
---
Share this Product
---