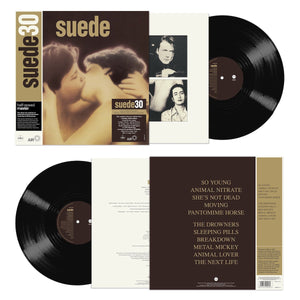 Suede
Suede (30th Anniversary Edition) [half-speed master edition]: 180g Vinyl LP
DEMREC1112
Regular price
£28.00
£0.00
Unit price
per
Tax included.
Shipping
calculated at checkout.
Pre-Order Item. Release Date Subject to Change.
Label: Demon
Release Date: 7th July
30 years old, this record, the record the Britpop documentaries (latest figures stand at 42 docos and 7 in pre and post production) say is the genesis of the "movement". To it's credit, it's a record that stands alone, still today, it just seems to be a record that arrived at a time when people were gasping for a band with some androgynous sex-appeal, that had a bit of Roxy Music to 'em with a human tenderness and a real sense of space and tension in sound. 
The only Britpop thing about this record is that it was a record that could only be made in Britain with it's grit, glam and self-deprecation, which rarely carried through to the acts that followed.
Anyway, this is gonna slap on that half-speed master.
Released in March 1993, Suede's self-titled debut was a critical and commercial triumph, winning the prestigious Mercury Music Prize and hitting the #1 spot on the UK Album Chart. Featuring the classic singles 'The Drowners', 'Animal Nitrate', 'So Young', and 'Metal Mickey', 'Suede' sold 100,000 copies in its first week making it the fastest-selling debut album ever in the UK at the time.

To celebrate the 30th anniversary of this landmark album, Demon Records and AIR Mastering proudly present this new half-speed master edition.

"It was a genuinely magical time in my life and one for which I'll always be grateful. It felt incredible being in what I thought was quite probably the most exciting band in the world at the time, making a record which felt like more than just another band making another album." – Brett Anderson

"So, 30 years ago, this is where it all began. A mixture of the live songs that had won us a following and our first experiments in the studio. Listening back now it still has that sense of wildness, and drama, and possibility of those early days. So young and so gone, indeed!" – Mat Osman

This edition has been newly mastered by Phil Kinrade from the original 1⁄2" tapes and production masters, overseen and approved by producer Ed Buller. The vinyl lacquer was expertly cut using precision half-speed mastering by Barry Grint at AIR Mastering. Half-speed mastering is a vinyl cutting technique that improves groove accuracy and transient information creating an incredibly detailed stereo image with a natural high frequency response.

Pressed on 180g heavyweight vinyl, housed in a poly-lined inner sleeve, featuring an obi strip and a 4-page booklet insert.
---
Share this Product
---