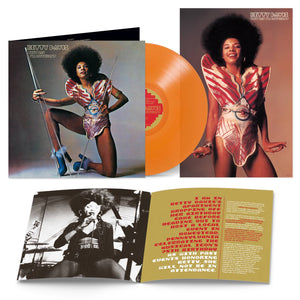 Betty Davis
They Say I'm Different: Clear Orange Vinyl LP
LITA027-1-1
Regular price
£36.00
£0.00
Unit price
per
Tax included.
Shipping
calculated at checkout.
Pre-Order Item. Release Date Subject to Change.
Label: Light in the Attic
Release Date: 25th August
Can't help but do a 'stank face' when listening to Betty Davis, goodness me the funk and fire just launches out the speakers, taking control of that mean blues r&b cosmic funk. A pioneer who sounds like a proto-mean funk funk Tina Turner, Millie Jackson, Beyonce, Prince, Outkast, Erykah Badu, Rick James... A Queen.
Expanded vinyl edition featuring gatefold jacket and 20-page booklet including rare photos, lyrics and new 2022 liner notes by Danielle Maggio interviewing Betty.
Vinyl plated at RTI.
One can hardly imagine the genre-busting, culture-crossing musical magic of Outkast, Prince, Erykah Badu, Rick James, The Roots, or even the early Red Hot Chili Peppers without the influence of R&B pioneer Betty Davis. Her style of raw and revelatory punk-funk defies any notions that women can't be visionaries in the worlds of rock and pop. In recent years, rappers from Ice Cube to Talib Kweli to Ludacris have rhymed over her intensely strong but sensual music.
There is one testimonial about Betty Davis that is universal: she was a woman ahead of her time. In our contemporary moment, this may not be as self-evident as it was thirty years ago – we live in an age that's been profoundly changed by flamboyant flaunting of female sexuality: from Parlet to Madonna, Lil Kim to Kelis. Yet, back in 1973 when Betty Davis first showed up in her silver go-go boots, dazzling smile and towering Afro, who could you possibly have compared her to? Marva Whitney had the voice but not the independence. Labelle wouldn't get sexy with their "Lady Marmalade" for another year while Millie Jackson wasn't Feelin' Bitchy until 1977. Even Tina Turner, the most obvious predecessor to Betty's fierce style wasn't completely out of Ike's shadow until later in the decade.
Ms. Davis's unique story, still sadly mostly unknown, is unlike any other in popular music. Betty wrote the song "Uptown" for the Chambers Brothers before marrying Miles Davis in the late '60s, influencing him with psychedelic rock, and introducing him to Jimi Hendrix — personally inspiring the classic album Bitches Brew.
But her songwriting ability was way ahead of its time as well. Betty not only wrote every song she ever recorded and produced every album after her first, but the young woman penned the tunes that got The Commodores signed to Motown. The Detroit label soon came calling, pitching a Motown songwriting deal, which Betty turned down. Motown wanted to own everything. Heading to the UK, Marc Bolan of T. Rex urged the creative dynamo to start writing for herself. A common thread throughout Betty's career would be her unbending Do-It-Yourself ethic, which made her quickly turn down anyone who didn't fit with the vision. She would eventually say no to Eric Clapton as her album producer, seeing him as too banal.
Her 1974 sophomore album They Say I'm Different features a worthy-of-framing futuristic cover challenging David Bowie's science fiction funk with real rocking soul-fire, kicked off with the savagely sexual "Shoo-B-Doop and Cop Him" (later sampled by Ice Cube). Her follow up is full of classic cuts like "Don't Call Her No Tramp" and the hilarious, hard, deep funk of "He Was A Big Freak."
Tracklist:
Shoo-B-Doop and Cop Him
He Was a Big Freak
Your Mama Wants Ya Back
Don't Call Her No Tramp
Git In There
They Say I'm Different
70's Blues
Special People
He Was a Big Freak (Record Plant Rough Mixes - Digital Only Bonus Track)
Don't Call Her No Tramp (Record Plant Rough Mixes - Digital Only Bonus Track)
Git In There (Record Plant Rough Mixes - Digital Only Bonus Track)
70's Blues (Record Plant Rough Mixes - Digital Only Bonus Track)
---
Share this Product
---