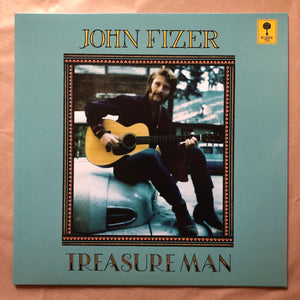 John Fizer
Treasure Man: Vinyl LP
SCTR059
Regular price
£29.00
£0.00
Unit price
per
Tax included.
Shipping
calculated at checkout.
Label: Scissor Tail Editions
Release Date: 20th January
Get in on what may possibly be the best country reissue of 2023. What an absolute gem of a reissue, the studio masters pulled from the 'bowels' of John's old station wagon. Its country going folk going rock, with a swing, with a bop, with a bit of swagger but still with that heart in hand ready to give it away at the drop of the hat. It's a great lost country classic, that's what it is.
For those who dig: Gram Parsons, Sweetheart of the Rodeo, Buck Owens, Everly Brothers best album 'Roots' and some of that Jim Sullivan mystery.
Barely saved from obscurity by a series of chance events, John Fizer's only recorded album Treasure Man will finally see the light of day. Forty-five years in the making, while for the last twenty-nine years Fizer has been "living rough" couch surfing, sleeping in play structures, friend's backyards and more recently his old Volvo station wagon. Fizer is currently residing in a nursing facility in Northern California. Below is the story of how this never before heard album came to Scissor Tail's attention. "I used to walk my daughter to school and passed the original Peet's coffee every day. Across the street was Berkeley's beloved John 'Treasure Man' Fizer playing chess, doing crosswords and waiting next to the treasure tree which he had filled with gemstones and various magical trinkets. To this day any child passing by is welcome to choose a treasure. Over many stops with my daughter I got to know John, a fountain of love, intelligence and humor and as quirky and feisty as can be. We became friends. Eventually he showed me a few old cassettes of cassettes of cassettes in poor condition of him performing and asked if I could make them sound better. I agreed to take a listen. Such amazing songs! "So I proceeded to remaster the cassettes while continuing to ask John at least four times over several months if he had the original master studio recordings. The answer was always no. About the time I finally had his cassette sourced recordings sounding as good as they could be and he popped up with a 15 inches per second 1/4' half track, state of the art analog master reel-to-reel recorded at the legendary Mountain Ears recording studio in 1977 with some very fine studio musicians including Ray Bonneville, Brad 'Honeyboy' Hayes, Erik 'Bobo' Johnson and Brian 'Sluggo' Brown. John had found the original reel! "It had been residing for decades in the bowels of John's old 1980 Volvo station wagon, which also serves as his home, and was covered in strangely beautiful mold but that was the day I knew the world would hear John's music the way it was meant to be be...big, fat, analog. The next few years were spent cleaning and remastering the album with some of the worlds finest restoration specialists." – James Johnson (producer

Tracks

1. Lady Lying Lovely
2. Good Morning Glory
3. Moonlight On My Window Sill
4. I Call For You
5. Sleeping Goddess
6. Give It All You Got
7. Tibetan Bells
8. The Web
9. Outside The Pale
10. Trainsong
11. Think On These Things
12. Send Out Love
---
Share this Product
---