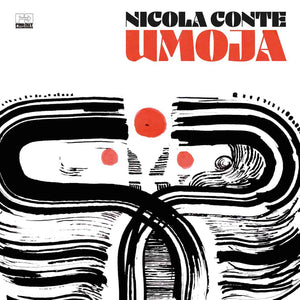 Nicola Conte
Umoja: Vinyl LP
FARO239DLP
Regular price
£28.00
£0.00
Unit price
per
Tax included.
Shipping
calculated at checkout.
Pre-Order Item. Release Date Subject to Change.
Label: Far Out Recordings
Release Date: 7th July
Nicola Conte is the Vibe Conductor, an effortless cool he exudes on everything he does; a bandleader, producer and composer who just can't help but give off that air of exciting living that is done at steady, chill pace, with a confidence that the final product, the final destination will be naturally and effortlessly soulful, spiritual and full of the swing of life. 
For those who dig: the idea of spiritual jazz and soul with the luxurious pared down lifestyle of Italian living.
Renowned Italian spiritual jazz master, DJ, producer, guitarist, and bandleader Nicola Conte proudly presents his new album Umoja via London based label Far Out Recordings.
A joyous exultation across ten tracks, Umoja taps into the abundant well of knowledge Conte has amassed over his career as connoisseuring compiler and archivist of deep jazz, latin, afrofuturist, bossa-nova and soul music from around the world
Expressing unity, oneness and harmony in Swahili, Umoja coalesces universal feelings through the multifaceted global music Conte has spent his life studying and researching.
Having released music with Blue Note, Impulse! and Schema records, Nicola Conte's relationship with Far Out began over a shared love of hard-edged bossa- nova and swinging samba-jazz. Between 2009-2013 Nicola Conte compiled five volumes of forgotten 60s Brazilian music for his Viagem series. He then released his critically acclaimed Natural album: a collaboration with vocalist Steffania Dippiero, featuring jazz standards alongside covers of lesser known Brazilian gems.
The music of Umoja draws on the deep-dug 70's independent spiritual and free jazz sounds, private-press soul records, and African and Afro Caribbean rhythms in Conte's collection. But he equally recognises his debt to many of the decade's more celebrated musical icons, such as North American cosmic jazz masters Lonnie Liston Smith and Gary Bartz, and Afrobeat originators Fela Kuti and Tony Allen.
Since founding the Bari-based bohemian cultural movement and club night Fez at the dawn of the nineties, Conte has proven to be a pillar of the contemporary, international soul-jazz scene. Composed alongside his long time friend, guitarist Alberto Parmegiani, Conte brings together a dazzling host of guests from around the world, including award winning British vocalist Zara Mcfarlane, acclaimed Finnish saxophonist Timo Lassy, french vibes player Simon Mullier, US vocalist Myles Sanko, rising South African drummer Fernando Damon, former Roy Hargrove bassist Ameen Saleem and Serbian flute sensation Milena Jancuric.
Proudly revivalist, Umoja was recorded direct to analog tape, with just two takes for each track.
---
Share this Product
---