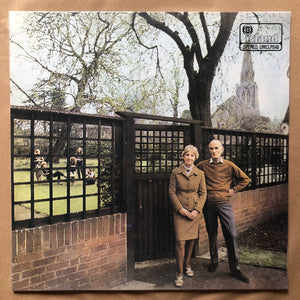 Fairport Convention
Unhalfbricking: Vinyl LP
UMCLP048
Regular price
£25.00
£0.00
Unit price
per
Tax included.
Shipping
calculated at checkout.
Label: Proper Records
Release Date: 30th June
Look at that cover, an iconic image. It's the new standard of English folk taking it from the previous generation... ironically the band are now as old, maybe older than this dusty old couple. The sound is of course as immortal as the image as Fairport established themselves as masters of pulling folk music into a world of fuzzy blues, psychedelic rock and west coast pop but at no point does it feel completely dislocated from it's source.
The trajectory that Fairport Convention took in the space of four albums and two years is one of the most remarkable in British popular music
These records contain some of the most storied names not just in British, but world music. From a bunch of school friends setting out to be 'the British Jefferson Airplane', over the course of their first quartet of releases, the group metamorphosed into the leading exponents of British folk rock. In the way American folk and blues had looked back to gospel songs and spirituals, Fairport mined a seam a traditional English folk song, and then combined them with rock rhythms to create something ground-breaking and quickly emulated. For many, this is the first time the considerable talents of Richard Thompson, Sandy Denny, Ashley Hutchings, Ian Matthews, Dave Swarbrick and Dave Mattacks would have been heard on record.Ian Matthews left the group during Unhalfbricking, and they decided not to replace him. The album was recorded between January and April 1969 and shows the band gaining confidence. The material is strong, and their covers of three Bob Dylan songs (including material from the then-bootleg The Basement Tapes) yielded a Top 30 UK hit single, Si Ti Dois Partir – a cover of If You Gotta Go, Go Now, sung in French. Sandy Denny contributes her keynote song Who Knows Where The Time Goes, and most remarkable of all is A Sailor's Life, a traditional folk song arranged by Simon Nicol and Richard Thompson. The ballad builds over 11 minutes into a full-on wig-out with a guest performance by Dave Swarbrick on fiddle.
---
Share this Product
---