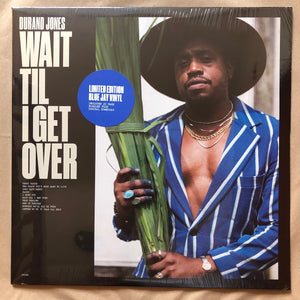 Durand Jones
Wait Til I Get Over: Blue Jay Vinyl LP
DOC280lp-C1
Regular price
£23.00
£0.00
Unit price
per
Tax included.
Shipping
calculated at checkout.
Label: Dead Oceans
Release Date: 5th May
Durand Jones doesn't just sing with raw soul power he feels every song he sings, it's that stuff that separates your competition singers and those who make records folk spin decades after. On his debut solo Durand Jones is in memoir mode as he looks at his communities history, his own queerness and family and with those feels filtered through that voice, this can't be anymore than one of the year's finest soul records.
Durand Jones's Wait 'Til I Get Over is a memoir and a love letter. It is the story of Jones's life, his growth and revelations, the wisdom of his hometown and the wisdom he could only gain once he left. In it, he writes through Hillaryville's contradictions: the pristine beauty and the ragged roads; his teenage desire to leave and his adult desire to honor his tangled roots; the plantation history and the ups and downs of the Black community that made homes of this reparation town. "Hometowns have a way of keeping a part of you," says Jones, "and if I'm making something young-me would be proud of, Hillaryville is a big part of that." Jones finds something transformative in his memories there and the life he has led since, ultimately claiming and embracing his whole self.
The result is vulnerable, personal, touching on Jones's relationship to church life, to his mother, to his queerness, to his worth. "I wish I could tell my younger self 'you don't have to stick to the dreams people have for you,'" says Jones, "'you can dream bigger. You are more than capable, you are more than able. I think about some nerdy punk kid in the rural south who needs to hear that now.'" Wait 'Til I Get Over does exactly that.
---
Share this Product
---