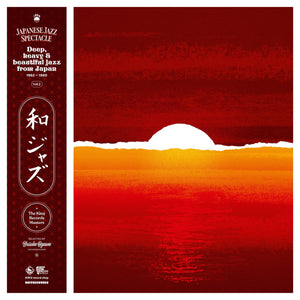 Various Artists
WaJazz: Japanese Jazz Spectacle Vol.II - Deep, Heavy and Beautiful Jazz from Japan 1962-1985 - The King Records Masters - Selected by Yusuke Ogawa (Universounds): Double Vinyl LP
180GHMVLP02
Regular price
£39.00
£0.00
Unit price
per
Tax included.
Shipping
calculated at checkout.
Pre-Order Item. Release Date Subject to Change.
Label: 180g
Release Date: 27th January
Big BIG BIIIIIIG Japanese jazz hitters on this, proper groovers, hip hop ready breaks, foot-tap and swing the head, spin the double bass and standing and jive piano playing but also some fusion, some tender moments, some moments close to pop and also leaning on Japanese instruments and traditional compositions in some moments. 
Another cracker in this series.
● Following the highly acclaimed first volume in the series, Japanese jazz expert Yusuke Ogawa continues the WaJazz exploration with another essential collection of music that contains something uniquely Japanese — focusing this time on the King Records catalog. Featuring timeless music by Isao Suzuki, Toshiaki Yokota, Akira Miyazawa, Takeru Muraoka, Yasuaki Shimizu, Masahiko Togashi, George Otsuka, and more!
● Gatefold 180g heavy double vinyl LP, reverse board print. Comes with extensive track-by-track liner notes by Yusuke Ogawa.
● All tracks licensed by King Record Co., Ltd., Tokyo, Japan.
● Mastering and lacquer cut by Jukka Sarapää at Timmion Cutting Lab, Helsinki, Finland.
● Artwork by Nker
---
"It is my great pleasure to introduce you to the second volume of the "Japanese Jazz Spectacle" series. Following the first compilation which focused on recordings from the Nippon Columbia catalog, this time we are digging into the King Records archives. It is almost impossible to capture the whole picture of Wa-Jazz in a couple of compilation albums since it is such a broad and deep genre, however, by extracting tracks from the Nippon Columbia and King Records collections - both labels having an extensive archive of jazz music - we may be able to glimpse a part of its allure and essence. This time again, I have made the music selection with this idea in mind. The music in this compilation was recorded between 1962 and 1985 and is a brief history of Japanese jazz on King Records. Listening is believing, so I hope these tracks will capture your heart and that you will enjoy the charms of Japanese jazz." - Yusuke Ogawa
Yusuke Ogawa has been running the Universounds store in Tokyo since 2001, specializing in jazz and second-hand, rare, and collector records. He is also a reissue supervisor, label manager, DJ, and music writer. Known for his vast musical knowledge, eye for detail, and archival skills, Ogawa has worked on more than 250 reissues and compilations – including the highly praised Deep Jazz Reality and Project Re:Vinyl series. He is the co-author of the Wa-Jazz Disc Guide and the Independent Black Jazz of America books.
---
180GHMVLP02 - Manufactured and distributed by 180g, in collaboration with HMV Record Shop and Universounds.

01: Toshiaki Yokota and The Beat Generation - Clair Deluge
02: Tadao Sawai and Toshiyuki Miyama & New Herd Orchestra - Constant Rain
03: Akira Miyazawa - Yamame
04: Various Artists - Ma Mère L'Oye
05: Masao Yagi - Blossom In The Water
06: Masahiko Togashi and Isao Suzuki - A Day Of The Sun
07: Yasuko Nagamine and Yasuaki Shimizu - Summer Wind
08: Hideo Shiraki - Sayonara Blues
09: Masahiko Togashi and His Improvisation Jazz Orchestra - Desireless
10: Takeru Muraoka and His New Group - Lady Boogie
11: Yoshio Ikeda - Down To The Sea
12: George Otsuka Quintet - Loving You
---
Share this Product
---