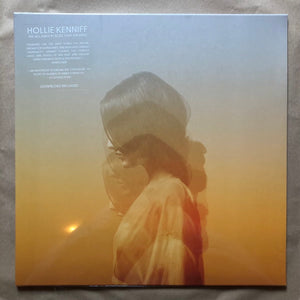 Hollie Kenniff
We All Have Places That We Miss: Vinyl LP
WV246LP
Regular price
£23.00
£0.00
Unit price
per
Tax included.
Shipping
calculated at checkout.
Label: Western Vinyl
Release Date: 10th February
Like the first day of spring, like a clear early Saturday morning, getting all your s***t in order, a weight off your mind, contentment or just a surprising feeling of bliss relative to nothing. That's how Hollie Kenniff music feels in sound, the dream pop drone and ambience is like something from the skies - it's a good vibe to hold onto.
For those who dig: new age, ambient dream pop, mellow post rock.
Hollie Kenniff's second LP for Western Vinyl, We All Have Places That We Miss, is a gallery of cloudlike synths, seraphic strings, and humming guitars, all coaxed into cohesion by Hollie's own wordless singing. The album's 2021 precursor, The Quiet Drift, landed on Bandcamp's Best Ambient list alongside the description "...deep tones of drone, dream pop harmonies, and new age's bright tranquility, Kenniff evokes the forests, lakes and rivers of her past and present surroundings with a zen patience." Here on Places... she strides even further into reminiscence, seeking and commemorating the fondly tragic ache of half-remembered locales lost to time: A grandparent's dim living room from an ambiguous decade; a lonely clearing beside a trail we can't remember if we walked or just dreamt; the calming light of a movie that aired years before we were born though our feelings insist we were there with the characters. We All Have Places That We Miss transmutes such glimmers into a palpable sonic kingdom that can be revisited at will, recalling the pedal-board ambience of Windy & Carl, Adam Wiltzie, and Liz Harris.


---
Share this Product
---