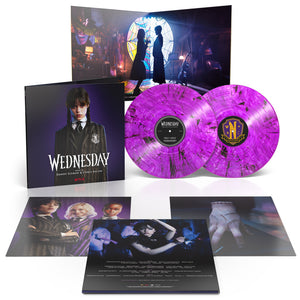 Danny Elfman & Chris Bacon
Wednesday: Purple Goth with Smoky Shadow Double Vinyl LP
LKS36326
Regular price
£26.00
£0.00
Unit price
per
Tax included.
Shipping
calculated at checkout.
Pre-Order Item. Release Date Subject to Change.
Label: Lakeshore Records
Release Date: 4th August
Of course you get Big Danny Elfman in when you need a bit of cinematic goth stuff. I'll be honest, not seen this show, but I haven't been able to move for that prom dance. 
"Danny Elfman's musical score was to die for, and it was incorporated into Wednesday's joyfully bleak coming-of-age story so brilliantly." collider.com

Double LP On Purple Goth with Smoky Shadow Vinyl, with Full-Color Gatefold Sleeve, and Inner Sleeves

Composed by 4X Oscar nominee, 2X Emmy Winner Danny Elfman (Milk, Big Fish, Men in Black, Good Will Hunting, Live from Lincoln Center, Desperate Housewives, The Simpsons) & 3X Emmy nom Chris Bacon (The Tick, Bates Motel, Smash, Gnomeo & Juliet, Sherlock Gnomes, Immanence)

Elfman also composed music for Burton's Beetlejuice, Batman and Batman Returns, The Nightmare Before Christmas, Mars Attacks!, Big Fish (for which Elfman earned one of his four career Oscar nods) and Alice in Wonderland, among others.

Chris Bacon is a protege of the great James Newton Howard, and won an HMMA for Gnomeo & Juliet, which he shared with James and Bernie Taupin (Elton John).

Side A

01. Wednesday Main Titles - Danny Elfman

02. Thing Follows Rowen

03. Morticia and Wednesday

04. Secret Library

05. Scorpion Flashback

06. The Monster

07. Family Day

08. Burning Outcasts

Side B

09. Wednesday on the Case

10. Dress Shopping

11. Gomez Accused of Murder

12. A Dove and a Raven

13. Gomez' Story

14. A More Than Adequate Father

15. It's A Snood

16. Morticia's Yearbook

17. Devious Plan

18. I Will Find You

Side C

19. Searching the House

20. The Monster Is Here!

21. Uncle Fester

22. Annoying Distractions

23. Fester and Wednesday Stakeout

24. Let's Roll

25. Stabbed in the Back

26. First Kiss

Side D

27. Wednesday Packs Up

28. Crackstone Rises

29. Goody Heals Wednesday

30. Enid To The Rescue

31. The Hug

32. The End…?

33. End Credits
---
Share this Product
---