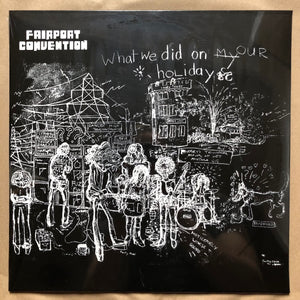 Fairport Convention
What We Did On Our Holidays: Vinyl LP
UMCLP047
Regular price
£25.00
£0.00
Unit price
per
Tax included.
Shipping
calculated at checkout.
Label: Proper Records
Release Date: 30th June
What absolute wonder on this record and what a transformation as Fairport Convention begin their transition into the standard of British folk rock, which all will be judged. Easy to forget the rich tapestry of textures and sounds put into these recordings, so vivid and full of life.
The trajectory that Fairport Convention took in the space of four albums and two years is one of the most remarkable in British popular music
These records contain some of the most storied names not just in British, but world music.
From a bunch of school friends setting out to be 'the British Jefferson Airplane', over the course of their first quartet of releases, the group metamorphosed into the leading exponents of British folk rock. In the way American folk and blues had looked back to gospel songs and spirituals, Fairport mined a seam a traditional English folk song, and then combined them with rock rhythms to create something ground-breaking and quickly emulated. For many, this is the first time the considerable talents of Richard Thompson, Sandy Denny, Ashley Hutchings, Ian Matthews, Dave Swarbrick and Dave Mattacks would have been heard on record.Original vocalist Jusy Dyble left the group in 1968 and was replaced by Alexandra 'Sandy' Denny. The rest of the line-up remained unchanged, and a move to Island Records saw What We Did On Our Holidays released in January the following year. Denny made her mark immediately with her opening song, Fotheringhay. Her voice, as accomplished as Dyble's but bluesier, added a new bite to the material. As well as Dylan and Joni Mitchell covers, the group began to experiment with traditional folk, covering She Moves Through The Fair and Nottamun Town. The album also includes Meet On The Ledge, Fairport's anthem, written by Richard Thompson
---
Share this Product
---