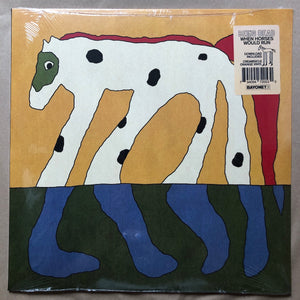 Being Dead
When Horses Would Run: Creamsicle Vinyl LP
BR054LPC1
Regular price
£25.00
£0.00
Unit price
per
Tax included.
Shipping
calculated at checkout.
Label: Bayonet Records
Release Date: 13th July
Being Dead are the kind of band that as soon as they have your ears, they'll likely take your heart and grab your fandom. It's that irresistible garage rock energy with a bit of the 80s/90s alt-rock with some art pop that cannot help to peak your interest. 
One of the best of it's kind all year and you just know they're going to killer live.
"Being Dead tweaks rock tropes to be fun and interesting again." Austin Chronicle // The garage-y psychedelic outsider pop band Being Dead shines bright with their distinctly right-brain songcraft, mischievous humor, and implausibly great vocal harmonies. As they've graduated from curiosity to cult favorites, we've yet to encounter a single person who dislikes Being Dead. Recorded at Radio Milk, producer Jim Vollentine (White Denim, Trail of Dead, Spoon) spit-shines Being Dead's sound without diminishing their weirdo-best-friend vibes. Their penchant for idiosyncratic lyricism and musical unpredictability shines throughout the album as the duo moves between everything from garage rock and pop to Laurel Canyon-style folk.
---
Share this Product
---