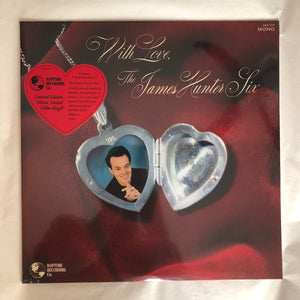 The James Hunter Six
With Love: Silver Vinyl LP
DAP072LPX
Regular price
£18.00
£0.00
Unit price
per
Tax included.
Shipping
calculated at checkout.
Label: Daptone Records
Release Date: 25th March

Still blows our mind that James Hunter is recording records in the 21st century, in 2022 and they sound as legit as they do. His records have that rare quality of sounding like instant standards and on 'With Love' he takes on the 60s soul staple of the heartbreak record, the romantic soul croon and the romantic lilting soul jazz best listened over dinner with your one true love. 

For those who dig: a bit of romantic soul, legit 60s soul rnb, Daptone Recordings, Lee Fields, Charles Bradley, Curtis Harding...
Daptone Records presents The James Hunter Six's latest offering, With Love: a heart-shaped collection of candle-lit ballads and love songs. Plucked like so many"he loves you" petals from the vast and sumptuous garden of his Daptone Recordings, these twelve lilting melodies have been selected and sequenced with great care, tenderness, and intention by Daptone staff for the solitary purpose of compiling some of the criminally overlooked treasures in the James Hunter Six's critically acclaimed catalog.

Tracklisting
1. Something's Calling
2. I Don't Wanna Be Without You
3. Who's Fooling Who
4. If I Only Knew
5. Carina
6. Take It As You Find It
7. This Is Where We Came In
8. Heartbreak
9. It Was Gonna Be You
10. Never

---
Share this Product
---