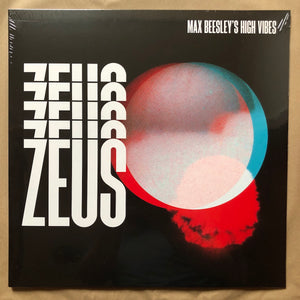 Max Beesley's High Vibes
Zeus: Vinyl LP
LEGO296VL
Regular price
£22.00
£0.00
Unit price
per
Tax included.
Shipping
calculated at checkout.
Label: Legere
Release Date: 29th September
Most folk may know Max Beesley for his work in gritty crime dramas but us heads know for the pure acid funk he laid down in the 90s and now today on his first record under the High Vibes moniker. This ain't no gameshow host doing Dean Martin, this isn't that bloke who does DIY SOS butchering Otis Redding or whatever the bloke from Homeland is messing around doing... this is a stellar jazz funk musician, who does a mean bit of stern acting going back to his musical roots as the Burnage Herbie Hancock.
"Zeus" is the first ever full-length album by Max Beesley's High Vibes ensemble, who released two classic 12inches on Boogie Back Records at the height of the Acid Jazz movement in 1993/1994. For "Zeus" Beesley set out to create something very special and reached out to some of the greatest session players in the world to play on the record.
Steve Gadd was a friend from many years ago when the two played on George Benson's 1996 album "That's Right". Steve came on board and suggested his good friend Walt Fowler would be a great addition for soloing on flugel and trumpet. Walt said he would love to be a part of the record and was terrific to work with. His tone is unsurpassable and perfect for the High Vibes record. Max then reached out to renowned guitarist Dean Parks who is one of the most recorded player in the 21st century. Dean also loved the tracks and wanted to record. Max has admired Luis Conte for many years and he has worked extensively with Steve, Dean and Walt in the James Taylor band among virtually every artist in the world, so it was great to add him to the line-up.
Jerry Meehan is Max's close school friend. Together they have produced and written songs, film scores and toured together with many artists. Jerry also served as a co-producer on the record: "Jerry's my fav bass player in the world and his musicianship unsurpassable". Finally, Max's good friend Christian Sands plays keyboards on the album. Max cites him as one of the greatest players of his generation today and was very eager to have him on the record. Christian's contribution is phenomenal. The Horn House rounded the musicians off. Nichol Thomson on trombone, Tom Walsh trumpet and Mike Davis also adding trumpet on some tracks. They are Max's fav horn section. Nichol and Max arranged all horns and the result is electrifying. 
BIOGRAPHY
Max Beesley is an actor and musician from Manchester UK. At 11 he was awarded a scholarship to Chethams School of Music where he studied piano, percussion and composition.
During his time at Chethams he played with the chamber orchestra, symphony orchestra, octets, and quartets, as a pianist and percussionist. He also developed a strong connection to jazz and R&B, citing Bill Evans, Herbie Hancock as some of his main influences. He developed his natural talent as a jazz musician along with the everyday classical music program. He played with The National Jazz Orchestra The National Chamber orchestra and The European Community orchestra under such luminaries as Claudio Abbado, Simon Rattle and Pierre Boulez. At 18 he won five scholarships to the major conservatories: Trinity College Of Music, The Guildhall School of Music and Drama, The Royal College of Music, The Royal Academy of Music and The Royal Northern. He worked with Leonard Bernstein in this period, also with Michel Legrand.
He became more and more interested in the compositional works of John Williams and at the other end of the spectrum, Lalo Schifrin, both informing the way he works today. At the same time enjoying the soul and structure of John Barry's voicings throughout the orchestra, and use of specific instruments for his unique sound. After a year at the Guildhall School of Music and Drama he was asked to join Paul Weller's band and recorded and toured with him for the next two years. He became one of the most sought-after multi-instrumentalist in the session business playing with Stevie Wonder, Chaka Khan, Maceo Parker, Earth Wind & Fire, Red Rodney, George Benson, Charles MacPherson, in Clint Eastwood's "Birdland" movie, Bobby Shew, Maynard Ferguson, James Brown, Incognito, The Brand New Heavies, Robbie Williams, George Michael and Jamiroquai.
---
Share this Product
---