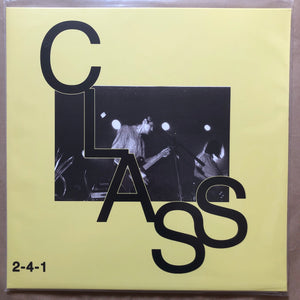 Class
2-4-1: Vinyl LP
DRUNKENSAILOR164
Regular price
$25.00
$0.00
Unit price
per
Tax included.
Shipping
calculated at checkout.
Label: Drunken Sailor
Release Date: 4th July
Scuzzy power pop punk - sign us up to this CLASS. The Tuscon band manage to sound like all the subgenres of the emerging 70s punk, whether that's the early snarl, or the shimmering lofi pop of new wave, the sharp power pop of the besuited Mod punks and with a hint of the elasticated post punk around the corner. 
If you've ever spent any time in the darkest recesses of the internet, you'll know that 'powerpop' is an emotive term. For every pockmarked tenderfoot flying the flag for some fuzzed-out alterna-rocker's harmony-drenched new single, there's a grizzled veteran insisting that there's not enough jangle, not enough hook, not enough oomph on display ('I hear the pop, but where's the power?'). Basically, if you thought 'what is punk' was a granular debate, trust me: you ain't seen nothing yet. Anyway, sidestepping the fact that I clearly am one of their kind, let's just say a quick 'fuck those nerds'. This is where Class come in. Class are a four-piece from Tucson, AZ, who are most assuredly all the power, all the pop, all the time. They've served time in a bunch of bands you already know and love - most notably everyone's favourite 'delinquent slobs' Rik And The Pigs - and Matt Rendon of their citymates The Resonars is the guy behind the mixing desk, so you know whatever comes out is gonna be good. '2-4-1' compiles the two cassettes they've released on Cincinnati's Feel It Records (which also released their debut LP proper, 'Epoca De Las Vaqueros') and it's absolutely rammed with new pop classics. 'Steady Hands', 'Wrong Side Of Town', 'Inspect The Receipt', 'Left In The Sink'... get learning these titles now, 'cause you're gonna get very well acquainted when you spin 'em until your needle's worn down to a flattened-out nub. Sound-wise, it's pop music as envisioned by the punks - straight to the point, no fucking about. Some of these songs feel like Alex Chilton playing 'September Gurls' on a curious cocktail of cheap speed and wayyy too much sugar; others are kinda like the aforementioned Resonars if they ditched their British Invasion records and got obsessed with a heady mixture of The #1s and Richard Lloyd's 'Alchemy'. Sometimes it just sounds like a forgotten late 70s punk classic, so I think we're all in the right place here. It's scuzzy and scuffed up in all the right places, with blazing guitar solos and crashing drum fills designed to get you where you need to go, with a minimum of fuss. 'Class' is an apt name. As you'd expect from a band with three vocalists, there's more than one style at play here, meaning this record pulls from enough varying strands to keep things interesting without sounding unfocused. There's no time to get bored, unlike when reading my drivel. What the fuck are you waiting for? This is power pop at its best, punk at its funnest, a whale of a time in less than 30 minutes. Let the nerds wage war on each other - clearly, I'll be reading it - and claim your own victory by playing this one to death. This band are in a class of their own, and if I've not laid it out explicitly enough, you need to start listening.
---
Share this Product
---