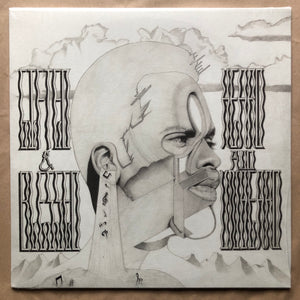 Gifted & Blessed
Gifted & Blessed: Vinyl LP
STH2485LP
Regular price
$31.00
$0.00
Unit price
per
Tax included.
Shipping
calculated at checkout.
Label: Stones Throw
Release Date: 17th November
Reckon this is what the squidgy New Age minimalist utopian dream the yuppies had us believe we could've obtained in the 80s would've sounded like.
New solo electronic album from producer Gifted & Blessed aka Gabriel Reyes-Whittaker – his first full-length under that alias since 2016. 

Heard and Unheard was created using a semi-modular synthesizer, several effects processors and a pair of analogue drum machines.
The album is made up of ten reflective and hypnotic tracks with emphasis on texture and atmosphere – both music to lose yourself to, and music to get lost in.
Gifted & Blessed was a founding member of Los Angeles' beat scene, he performed at the very first Low End Theory events in L.A., and has produced and collaborated with artists including Kelela, Ras G, Steve Arrington.
He has since made a name for himself in the underground electronic and dance music scenes, releasing music on Eglo and All City, among others.
Gifted & Blessed's music has been included in many compilations, notable Sassy J for Rush Hour and Prosumer for Fabric.
---
Share this Product
---