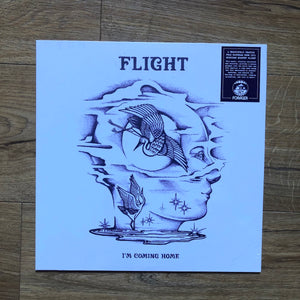 Flight
I'm Coming Home: Vinyl LP
FORLP0021
Regular price
$35.00
$0.00
Unit price
per
Tax included.
Shipping
calculated at checkout.
Label: Forager Records
Release Date: 3rd December
I've been waiting for this moment when soft rock would be the new jam, sometimes your head just needs lovely lilting rhythms and melody, sometimes you just need to whisper tender harmonies into the listeners waiting ears and let em know 'still think about her a lot'. Forager's second release following their Belong to the Wind comp of nice and soft psych folk. Flight were a Michigan quartet who just never did it, a few private presses and an album that never quite came out till now. An emotional, open and comforting listen.
For those who dig: those who aren't too big a coward to admit Bread, David Crosby's early solo albums and the goofy openness of Graham Nash's CSN tracks. Sad About the Times and Belong to the Wind comps.
A BEAUTIFULLY FRAGILE FOLK DAYDREAM FROM 1971 MICHIGAN QUARTET FLIGHT. FOLLOWS THE FANTASTIC 'BELONG TO THE WIND' COMPILATION (FORLP001)
8 track unreleased LP from 1971, restored and remastered from the original master tape.
Includes alternate versions of the two standout singles, restored and remastered from the original
1971 45 released on Peanut Records.
Period correct tip on style sleeve.
Liner notes written by Flight's two founding members. Original hand-drawn artwork by Niko Bianco.
Once the dust had settled after a musically and politically turbulent era that was 1960s America, there emerged a new musical movement, one that united the singer-songwriter with the folk-rock sensibilities developing at the time: A beautiful, fragile form of American folk music exploring the more sentimental parts of human experience.
Flight was formed in 1971 in the Michigan town of Grayling by Phil Stancil and Doug Slater. The two teenagers, with no formal musical training, sat down for a year to explore a shared sense of vulnerability, and newfound freedom in expressing an emotional openness rarely seen in young American men at the time.
What resulted was an 8-track LP, recorded over two days in two separate studios. Aside from a limited 45 pressing of 50 copies of the two singles, I'm Coming Home would wait for a full half-century to be released. This music recently uncovered and restored, provides a unique glimpse into the world that was 1971 America: a time when young men felt emboldened to abandon machismo and explore the feelings of heartbreak, longing, alienation, and love in music.
Enjoy I'm Coming Home By Flight
1 I'm Coming Home
2 Song For The Road
3 You're A Dream
4 Here Today
5 It's You
6 Chasing Rainbows
7 For You Forever
8 A Better Time
9 I'm Coming Home (45 Version)
10 Song For The Road (45 Version)
---
Share this Product
---