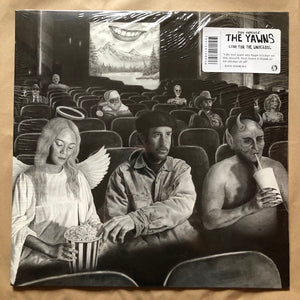 John Andrews & The Yawns
Love For The Underdog: Vinyl LP
WOODSIST105
Regular price
$35.00
$0.00
Unit price
per
Tax included.
Shipping
calculated at checkout.
Label: Woodsist
Release Date: 28th April
Nothing but love for the underdog on here, for some scrappy passion, for sometimes daring to pop your head over the parapet and declare 'I'm actually good at this shit too', we get behind it because we all think we have an underdog story in us. John Andrews has that connection of such, although his knack for the nagging melody and endearingly self-deprecating but oddly uplifting lyrics mean his music his music has the natural charm and charisma of an underdog competitor who's never meant to truly win.
For those who dig: on this project I'm getting 'Kaputt' era Destroyer, Dick Stusso, Drugdealer, Sam Burton, Michael Rault and I'm getting Prefab meets Nilsson vibrations too.
John Andrews is something of an open secret in a certain corner of the music scene: a versatile musician and animator. A film school drop out whose work hat-tips tradition as much as outsider anti-aesthetics. He's spent over a decade on the DIY circuit, playing early house shows alongside then up-and-coming peers Weyes Blood and Daniel Bachman. Today he is still out there projecting his sketchy hand-drawn animations during his performances in coffee shops, small galleries and non-traditional venues. Andrews' painterly approach now introduces the listener to his version of New York City, the place he was bound to end up after years of dwelling in Pennsylvania farm towns and New Hampshire barns. There is handmade vibrancy to the world he's imagined here: intimate moments seen from the interior, looking outward from hole-in-the-wall restaurants, theaters and the fragments of peace found within the restless and dirty street corners. Love For The Underdog, his aptly titled fourth release with the Woodsist label, was tracked live to tape in various studios and apartments across the Empire State with help from his bandmates in Cut Worms' touring outfit, Max Clarke, Keven Lareau and Noah Bond. Buoyant melodies are supported by timeless string arrangements, translated from Andrews' head to page with the help of friend Simon Hanes. The string quartet follows the tradition of Francoise Hardy, Harry Nilsson, Margo Guryan and Belle and Sebastian, giving the whole thing a cinematic ambience with stark shadows of an Edward Hopper painting. The lyrics tie together narratives of cynical heroes and troubled lovers. Put on the record and sink into well-worn red velvet theater seats, when the lights go down and the flickering of projectors run the title: Love For The Underdog, indeed.


---
Share this Product
---