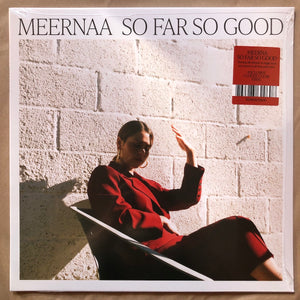 Meernaa
Meernaa: Cloudy Clear Vinyl LP
KS062LPC1
Regular price
$32.00
$0.00
Unit price
per
Tax included.
Shipping
calculated at checkout.
Label: Keeled Scales
Release Date: 6th October
Just got good bones this record, it's got a warm folk glow with a little haze of dreamy sophistipop and a little 80s sleek soul gloss, there'a real sensual warmth to this record and confidence in giving the sounds space to breath.
For those who dig: Molly Sarle, Madeline Kenney, Sade, Bedouine, Haley Hendrickx, Waeather Staion, Aldous Harding...
Meernaa's So Far So Good travels perfectly with a glistening night out or a drive to a secret hideaway. It exists somewhere between R&B, jazz, psychedelic rock, art rock, and pop. As a genreless artist, it mirrors her constant struggle to balance a vibrant day to day of falling in and out of love, writing and recording music at her studio and the intensity in the back of her mind – her familial struggles concerning death, drugs, and instability.
Meernaa's previously released singles "Another Dimension" and "On My Line'' introduce a celestial and soulful album. The weather of these songs is varied, the poetry shifting its winds from tender playfulness to desire. Amelia Maher of The Line of Best Fit called Bond's imagination "as intriguing as it is beguiling and mysterious."
Part of a blooming Los Angeles music scene, Carly Bond is a studio engineer and partner at Altamira Sound Studios. As a session and touring guitarist she's worked with artists such as Luke Temple, Jerry Paper, Helado Negro, Sam Evian, John Vanderslice, Nilüfer Yanya, Benny Bock, and Miya Folick.
After a successful EP and debut album, Carly of Meernaa is releasing her first album with Keeled Scales and Secretly Distribution.
Incredibly produced, crystalline vocals, slyly intricate guitar and rhythm, and moody dynamic take on familial addiction, love, love lost, and the impact of the changing of the seasons/the earth's impact on the creative soul. Has toured with Helado Negro, Nilüfer Yanya, Sam Evian, and Miya Folick.
---
Share this Product
---