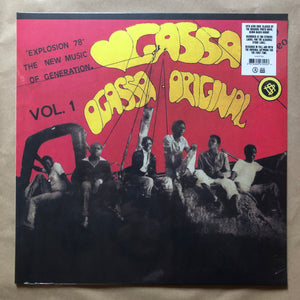 Ogassa
Ogassa Original (Vol. 1): Vinyl LP
AJXLP702
Regular price
$31.00
$0.00
Unit price
per
Tax included.
Shipping
calculated at checkout.
Label: Acid Jazz
Release Date: 17th February
Oh look, it's your new favourite Afro-Funk-Rock reissue, your new 'oh yeah I've always been into the Benin music scene of '78' claim... hey, it's full of rippers, jams and the kind of grooves I know few can deny.
For those who dig: Analog Africa comps, Soundway Records, Fela, the Nigerian scream contest comps, The Movers and generally those who like elite Afro records.
Over the past couple of years Acid Jazz have been re-issuing releases from the enigmatic 'Albarika Store' label, a goldmine in Afro cuts from Benin, West Africa
The latest instalment is the ultra-rare 'Ogassa Original (Vol. 1), the first LP from obscure but ultimately brilliant Porto Novo group, Ogassa from 1978
Like many Albarika releases, it was recorded at EMI Lagos, giving a depth and fidelity that stands out in the realm of Afro rarities
Reissued in full with the original artwork for the very first time, a must have for Afro collectors and completists alike
Avale
Ogassa Story
Production Vido Tche
Gbe We Gnin Wa Bio
---
Share this Product
---