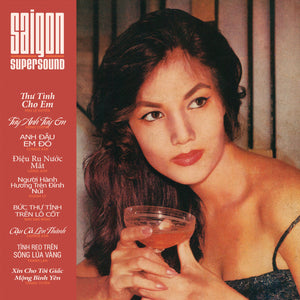 Various Artists
Saigon Supersound Vol. 3: Double Vinyl LP
SSS07
Regular price
$39.00
$0.00
Unit price
per
Tax included.
Shipping
calculated at checkout.
Pre-Order Item. Release Date Subject to Change.
Label: Saigon Supersound
Release Date: 16th December
Big swinging, heavy fuzz, big break drumming, exotica pop and Vietnamese garage rock nuggets of the 60s and 70s (pre-'75). 

One of those comps where every track bangs and popping this on at home or out playing a DJ makes you look like a travelled vinyl digger.
For those who dig: Comps bursting with global garage rock and fuzzy pop nuggets.
Saigon Supersound is delighted to present the 3rd and final volume of its pre-1975 Southern Vietnamese music collection. A curated collection of music from Saigon during the 1960s and early 1970s. The music has been restored and remastered in order to present listeners with audio quality on par with its original quality upon release more than half a century ago.
The first few songs in this Volume are songs Vietnamese people used to call "Stimulus Music" or "Action Music". These are songs that borrow vibrant melodies, inspired by the west, performed by the best representatives of this genre. In addition, this volume includes songs, famous in clubs both past and present like "Nếu Anh Về Bên Em" by Mai Hương and "Hình Ảnh Người Em Không Đợi" by Thanh Lan.
Many believe that "Southern Golden Music" is just popular music, simply because it "pleases the listener". Volume 3 include melodies most Vietnamese might have considered "unpopular", but popular with "golden music" lovers. Today, people often call "gold music" bolero music, because this is the most popular style found in this golden era of music. In this volume, Saigon Supersound have selected typical bolero songs like,"Hàn Mặc Tử" sang by Trúc Mai, as well as, "Nắng Chiều" by Lê Trọng Nguyễn. 
In addition to the variety of melodies, Volume 3 also shows the diversity of genres found in old Southern music by introducing songs that praise the homeland such as "Tình Reo Trên Sóng Lúa Vàng" by Thanh Lan, praising peace in "Xin Cho Tôi Giấc Mộng Bình Yên" by Thanh Tuyền, witty music in "Cậu Cả Lên Thành" by Connie Kim. 
Volume 3 closes with the song "Xuân Muộn" (Late Spring), performed by Hoàng Oanh. The song talks about the end of a lunar year - a cycle of heaven and earth, the end of sad stories and opens up new hopes for more positive things to come.
Finally, the face of the movie star Kiều Chinh is chosen to grace the cover image of Saigon Supersound 3rd Volume. Although she may not have had any direct relations related to music, more than 50 years ago, Kiều Chinh's image appeared many times on the covers of various music sheets. The image of Kiều Chinh was chosen for the mix of Eastern and Western cultures present in her life and career that mirrored the music of that era. These songs, with melodies originating from Europe, the Americas and Africa have been an integral part of Vietnamese music since the 1960s.
Tracklist:  
A (20:37 min) 01 Thư Tình Cho Em - Mai Lệ Huyền (DEQ922200017) 03:10 02 Tuỳ Anh Tuỳ Em - Hùng Cường (DEQ922200018) 03:20 03 Anh Đâu Em Đó - Connie Kim  (DEQ922200019) 03:38 04 Điệu Ru Nước Mắt - Carol Kim (DEQ922200020) 04:27 05 Người Hành Hương Trên Ðỉnh Núi - Khánh Ly (DEQ922200021) 05:52
B –  (20:18 min) 06 Bức Thư Tình Trên Lô Cốt - Ban Sao Băng (DEQ922200022) 03:14 07 Cậu Cả Lên Thành - Connie Kim (DEQ922200023) 05:58 08 Tình Reo Trên Sóng Lúa Vàng - Thanh Lan (DEQ922200024) 03:47 09 Xin Cho Tôi Giấc Mộng Bình Yên - Thanh Tuyền (DEQ922200025) 03:33 10 Nắng Chiều - Sơn Ca (DEQ922200026) 03:46
C –  (21:54 min) 11 Đừng Quên Anh Là Lính - Trường Hải (DEQ922200027) 05:11 12 Bản nhạc không tên - Ban Nhạc Lê Văn Thiện (DEQ922200028) 03:4 13 Mưa Bay Trong Đời - Duy Khánh (DEQ922200028) 06:01 14 Hàn Mặc Tử - Trúc Mai (DEQ922200029) 04:21 15 Nếu Anh Về Bên Em - Mai Hương (DEQ922200030) 02:41
D-  (18:34 min) 16 Gửi Người Em Nhỏ - Duy Quang (DEQ922200031) 05:10 17 Hình Ảnh Người Em Không Đợi - Thanh Lan (DEQ922200032) 03:12 18.Trách Yêu - Hùng Cường & Mai Lệ Huyền (DEQ922200033) 03:22 19 Tình Anh Tình Em - Túy Phượng (DEQ922200034) 03:23
---
Share this Product
---