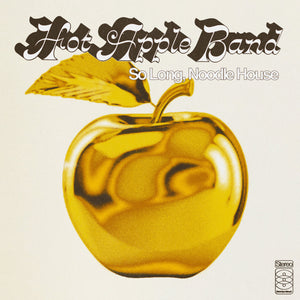 Hot Apple Band
So Long Noodle House: Vinyl LP
TES035
Regular price
$38.00
$0.00
Unit price
per
Tax included.
Shipping
calculated at checkout.
Pre-Order Item. Release Date Subject to Change.
Label: Third Eye Stimuli
Release Date: 24th November
You'll always have our ears with a cover like that, looking like a lost 70s country rock tangy jammer just waiting to come home with us. Funnily enough, it sounds like you imagine; the harmonies are sweet, the melodies infectious, the guitars are tangy and there's just the right amount of groove for country rock. 
For those who dig: Drugdealer, Daniel Romano, Lemon Twigs, Poco, Nude Party, Natural Child, Cool Ghouls...
Hot Apple Band's long-awaited debut album, So Long, Noodle House is a collection of 11 tracks recorded between 2019-2022, mostly at Jack Kinder's home studio in Strathfield, Sydney. Once the pandemic hit, Jack and Lewis Mosley had ample time to give birth to the songs, allowing for this body of work so it could become all that it deserved to be. The resulting album will no doubt please long-time fans, with a number of songs being staples from the band's live repertoire. So Long, Noodle House is symbolic sign-off on the band's past and an exciting peek into what's to come. The record covers broad ground, from 70s imbued alt-country and catchy Beatles-era pop, through to emotive folk and soft rock. Coming-of-age themes run deep in the album, as Jack Kinder's lyrics touch on life changes, friendship, shitty jobs and of course, love. With Kinder's smooth vocals, clever arrangements and gorgeous vintage production, and Lewis Mosley's unforgettable lead guitar, slide and keyboard performance, Hot Apple Band's debut has the same charm of some of the best records from the early 1970s, radiating George Harrison, Crosby, Stills, Nash & Young, Harry Nilsson and Fanny in a similar style to modern counterparts such as Drugdealer, Weyes Blood, Daniel Romano and The Lemon Twigs. 
---
Share this Product
---