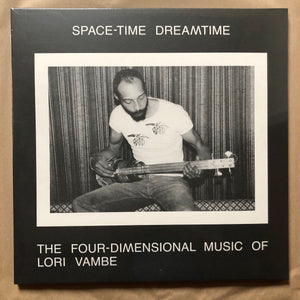 Lori Vambe
Space-Time Dreamtime: The Four-Dimensional Music Of Lori Vambe: Double Vinyl LP
STRUT340LP
Regular price
$48.00
$0.00
Unit price
per
Tax included.
Shipping
calculated at checkout.
Label: Strut
Release Date: 29th September
Fools errand describing this, it's like few things I've ever heard, it has this earthly almost pre-modern age rhythm but then early flutterings of electronic music and Afro-disco futurism with stabs of piano that could be house music weaving in and out. Otherworldly.
Occasionally, you find music outside the commercial mainstream, outside of everything – the music of visionaries, eccentrics, inventors, loners, the keepers of secrets, the path-finders. Moondog, Daphne Oram, Harry Partch are from this mould. And so too is Lori Vambe.

New on Strut, the first ever reissue of Vambe's privately pressed original albums from 1982, Drumland Dreamland and Drumgita Solo. A self-taught drummer, inventor, and sonic experimentalist, Lori Vambe is a unique figure in British music. Creator of his own instrument, the drumgita (pronounced 'drum-guitar') or string-drum, Vambe intended to create a kind of music that had never been made in order to pursue access to the fourth dimension.

Vambe was born in Harare, Zimbabwe and his father, Lawrence Vambe, was a noted Zimbabwean journalist and author. Moving to London in 1959, Vambe immersed himself in the Brixton squat movement of the early 1970s, teaching himself to drum and creating a short-lived performance group, The Healing Drums of Brixton (Vambe, the sculptor Alexander Sokolov and outsider musician Michael O'Shea). Vambe later had a dream-vision involving a feeling of ecstasy while playing an unknown instrument that extended from his own umbilical cord; the instrument would manifest itself as the drumgita. In 1982, he privately produced a pair of home recordings, the diptych set Drumgita Solo and Drumland Dreamland, releasing them on his own label Drumony. On these records, he rejected any commercial aesthetic and employed tape effects, temporal shifts, reversed sound and overdubbing to investigate space-time and access the fourth dimension. Combining layered drums with the rhythmic throb of the drumgita and, on Drumland Dreamland, an improvised piano performance by Brazilian concert pianist Rafael Dos Santos, the albums are both hypnotic and perturbing.

Both albums were cut at Portland Studios by Chas Chandler and stand as a concealed monument of Black British experimental music. 500 copies of each record were originally pressed, and both were released together. The albums were never performed live.

For this first ever reissue of Drumland Drumland and Drumgita Solo, Strut presents the two albums in their original artwork, housed in a deluxe slipcase including an additional 8-page 12"-sized booklet featuring unseen photos, liner notes and an interview with Lori Vambe by The Wire magazine writer Francis Gooding. Both albums are fully remastered by The Carvery.
Drumgita Solo
A1. Intro
A2. Drumgita
A3. Ancient Boogie (Mantra)
A4. Artnam
A5. Mantra
A6. (One) Boogie Home Going
B1. Going Home Boogie (One)
B2. Un Minuto (One)
B3. Un Minuto (Two)
B4. Going Home Boogie (Two)
B5. Going Home Boogie (Three)

Drumland Dreamland (Part One)
C1. Drumsong (One)
C2. Drumsong (Two)
C3. Drumsong (Three)
C4. Strumelody
D1. Drumelody (One)
D2. Drumelody (Two)
D3. Ydolemurd
D4. Hum Drum Dring (One)
D5. Hum Drum Dring (Two) (The Freedrum Song)

---
Share this Product
---