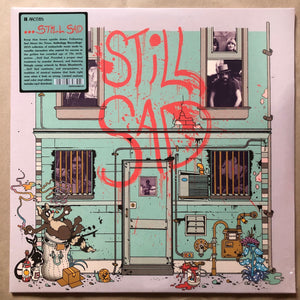 Various Artists
Still Sad: Seafoam Blue Double Vinyl LP
ARC0851
Regular price
$40.00
$0.00
Unit price
per
Tax included.
Shipping
calculated at checkout.
Label: Anthology Recordings
Release Date: 27th October
...Still Sad but loving life with the follow-up to one of the finest comps of all-time 'Sad About The Times', which pulled together tracks from the weariest of barstool troubadours, lone some romantics and broken souls all of whom could write a tune that wouldn't be out of place on a record by any of your favourite American folk rock artists. Mikey Young pulls together another batch of rare 70s AOR folk rock shoulda-beens and coulda-ifs. 
For those who dig: Country rock n roll, 70s folk rock and soft rock. 
Keep that frown upside down. Following Sad About the Times, Anthology Recordings' 2019 collection of melancholic music made by maudlin marauders who aspired for 70s AOR radio success but never quite achieved it, arrives ...Still Sad.
A companion to its predecessor, ...Still Sad adds to a general malaise that genuinely feels terribly right. Compiled again by Mikey Young (Total Control / Eddy Suppression Ring) and Keith Abrahamsson (Founder / Head of A&R at Anthology Recordings), ...Still Sad scours the corners of cracked vanity presses and the fault lines of forgotten 45s to assemble another sixteen songs that cut to the heart faster than a maxed out credit card to a feeble pile of Florida Snow.
...Still Sad features music made in North America, mostly in the '70s. Scan the track list and you can almost hear the earth tones, and see the studio scene where these artists with nothing else to lose gathered to give everything they had in hope that these songs would be heard. Even if most of these songs are just now being heard, each one schleps the emotional baggage of four decades past to the present.
Though some songs on ...Still Sad veer from themes of loss or lament, there is still enough nostalgia to take any fool who falls for it on a roller coaster ride of regret and remorse. But don't mistake ...Still Sad as a torture device for the unsuspecting listener, rather a front row view of the tortured heart. You'll come out feeling better on the other side of streaming ...Still Sad, and the artists included on the compilation (well, at least those who made it to the other side) a fraction of a penny richer.
...Still Sad makes it way into this cruel, cool world via Anthology Recordings.
Disc 1
Side 1
1. Rust in the Rain
2. Modessa
3. Round & Round
4. Maple Shade
Side 2
1. Pay the Price
2. People Get Ready
3. Colorado
4. Garden Song
Disc 2
Side 3
1. Take My Hand
2. Voice in the Wind
3. The Thinker
4. Storm in the Night
Side 4
1. Doin' Alright
2. No Magic
3. Maybe
4. Don't Want to Go Home
---
Share this Product
---