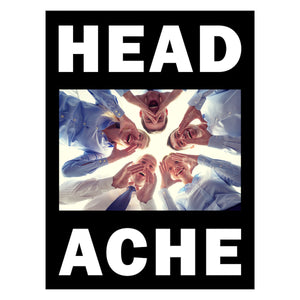 Headache
The Head Hurts but the Heart Knows the Truth: Double Vinyl LP
PLZ051LP
Regular price
$28.00
$0.00
Unit price
per
Tax included.
Shipping
calculated at checkout.
Pre-Order Item. Release Date Subject to Change.
Label: PLZ Make It Ruins
Release Date: 10th November
Headache are Vegyn, the trusted Frank Ocean producer and maker of otherworldly hip hop, triphop and psychedelic hip hop, teaming up with lyrics by Francis Hornsby Clark, who doesn't turn up on any search engines and with vox... well the vox is a real 'ring the bell cos this is the first for us' the vocals are done by AI. Don't run off scared because the dead delivery of the paranoid and Black Mirror'esque lyrics suit the tripped beats and layered textures of Vegyn's incredible production. 
Headache is a new project produced by Vegyn, with all lyrics written by Francis Hornsby Clark, and then performed by AI.
Some facts about Headache: it is rare that a day goes by where Headache does not either lose his mind or lose a lot of money, and Headache is always unable to say how either happened. Headache loves gymnastics, especially the mental kind. Headache can spend up to ten hours staring at a wall, as long as it is painted white. Headache has been described by people as "the most charming person in the world", "a total freak loser" and "extremely mediocre". Headache is very popular among children, the elderly and the criminally insane. Headache is here for you. Headache would like to brighten your day, today. Headache would like you to know how much it would mean to them if you liked them.
A1 - The Beginning of the End
A2 - That Thing with the Rabbit
A3 - The Pavement is my Pillow Talk A4 - Business Opportunities
B1 - Truisms 4 Dummies
B2 - Bucket Listener
B3 - Mission Impossible III
B4 - The Party that Never Ends
C1 - The Beginning of the End (Instrumental)
C2 - That Thing with the Rabbit (Instrumental)
C3 - The Pavement is my Pillow Talk (Instrumental) C4 - Business Opportunities (Instrumental)
D1 - Truisms 4 Dummies (Instrumental)
D2 - Bucket Listener (Instrumental)
D3 - Mission Impossible III (Instrumental)
D4 - The Party that Never Ends (Instrumental)
---
Share this Product
---