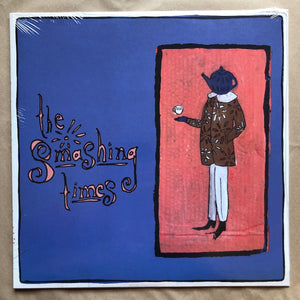 The Smashing Times
This Sporting Life: Vinyl LP
KLP293LP
Regular price
$33.00
$0.00
Unit price
per
Tax included.
Shipping
calculated at checkout.
Label: K Records / Perennial
Release Date: 3rd November
They're on K Records, their album cover is a cartoon dandy with a teapot as a head, the album is taken from a 60s kitchen sink drama... so you've guess it, it's an industrial hip hop record. Nah, it's glorious DIY indie pop, lovely and lofi, nice and jangly with a bit of chaos. LOVE THIS.
This Sporting Life is a co-release between Perennial and K. Featuring Thee Jasmine Monk and Zelda-Anais (The Smashing Times, Midden Heap) as well as scene stalwarts Britta Leijonflycht (Almond Joy, Children Maybe Later, Galore), Paul Krolian (Expert Alterations), Blake Douglas (Corduroy, Midden Heap) Recorded by JAZ, Miles Waltuck, and the band in Baltimore, MD. Mastered by Amy Dragon. Look for the for singles "Glorious Tales of Wes" and "Saturday Night and Sunday Morning." "I know where Dan Treacy Lives" And so do you if you live in Baltimore. You may try to look them up neé Barrett, neé Clark. But just ask the Postman, they reside under the name. The Smashing Times. Known poets about town, filthy mother nature's sons, called out for tea cozies and old wrinkled clothes, but put on 'oh so well' with jangle and verve. "the night belongs to poets and madmen". Drinking cups of hot tea after a dance alone in the rain. A Tom Courtney movie plays in the background. Oh so surreal. 14 tracks 33RPM. "When you call your band Smashing Times you can't help instantly getting the flavour of the Television Personalities and Dan Treacy but on their second album, the band deliver that and so much more. This really is a fusion of psychedelic, twee and freakbeat that will make your heart skip and your head smile. The guitars shimmer, strum and jangle whilst the vocals float effortlessly on top of the efficient rhythm section.  Every song is a bundle of energy with hooks that come both instantly and after multiple plays. Without doubt, if it had been recorded in the 80's would have been released on Whaam or Dreamworld but luckily for you pop kids this 2023 and K have the honour of releasing it". (Sean Forbes).
Tracklist:
1. Glorious Tales of Wes
2. Tuesday, Coming Into Time
3. This Sporting Life
4. Let's Be Nice With Johnny
5. Saturday Night and Sunday Morning
6. She Was Dancing Alone In The Rain
7. Dream Of 1000 Cats
8. Burgulary In Belvedere
9. A Void About Town
10. Whatever The Postman Says
11. Petey
12. Dandy
13. Where is Rowan Morrison
14. Peppermint Girl
---
Share this Product
---