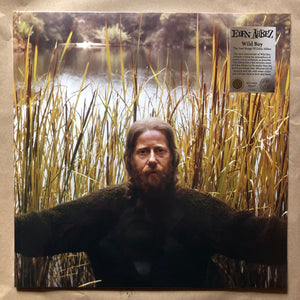 eden ahbez
Wild Boy: The Lost Songs Of Eden Ahbez: Coloured Vinyl LP
EVERLANDPSYCH015LPCO
Regular price
$36.00
$0.00
Unit price
per
Tax included.
Shipping
calculated at checkout.
Label: Everland
Release Date: 17th March
We'll take some more cuts from the original hippie of music, the ground-zero for off-grid spiritual nature psychedelic folk. This collection of lost songs features his biggy Nature Boy, stripped back to its instrumental beauty plus some of that exotica compositions that became his signature. A fascinating 'further listening' of one of music's true originals.
"Wild Boy …" is a reissue of the well-known 2016 release curated by Brian Chidester, renowned researcher and biographer of Eden ahbez. Especially for this album, Brian wrote an interesting text about ahbez's life, which definitely became the decoration of the release. With the new 2023 re-release, we went a little further and kept what is commonly referred to as studio cuts. It's a few more minutes in the studio with ahbez himself, full of emotion and life. In addition, to the delight of fans, the edition includes an additional composition Nature Boy (Mantovani Orchestra). Especially, it is worth noting the outstanding mastering prepared from practically decomposed tapes by the Grammy-nominated Jessica Thompson, which guarantees the deepest and warmth possible sound. Jessica a huge ahbez fan and we're highly appreciated for what she has done to save his music for the future. Eden Ahbez is definitely at the origin of psychedelic music and this release can be taken as further proof. Over the past twenty years, the iconic figure of the world's first hippie Eden ahbez has become famous primarily for his 1948 song "Nature Boy", praising universal love, and his amazingly solo album from the 1960s called "Eden's Island" - one from the first concept albums in the history of music and probably the first psychedelic music album. "Wild Boy: The Lost Songs Of Eden Ahbez" deepens understanding of the origins of the psychedelic movement in the 1950s. The disc contains a musical selection of works by Eden ahbez himself, written by him in the period after Nature Boy. The inclusion of songs such as "Palm Springs" - Ray Anthony Orchestra and "Hey Jacques" by Erta Kitt gives the listener the chance to discover for the first time the little-known recordings of world-famous artists composed by Eden ahbez. Through "Wild Boy" and "Surfer John" you can hear the author's handling of absurd rock and exotic experimentation, as well as sweet psychedelic pop like Monterey (with Paul Horn on flute). Overall, Wild Boy: The Lost Songs Of Eden Ahbez offers an overview of the lost works of 1949-1971 with seven unpublished recordings and eight rare singles. If in 2023 you are missing the hallucinogenic content in Eden Ahbez, it amazingly makes up for that deficiency with simple chords, expansive arrangements, and lyrics about travel, relaxation, free love, and spirituality. Thus creating the standard of psychedelic music. Eden Ahbez's songs weren't only fantasy and his personal philosophy was the real thing that he lived. reviews: "This carefully and extensively researched compilation culls covers by top-notch mainstream artists juxtaposed with unreleased Eden recordings. What might sound like a mixed bag is actually more like a chronological, musical non-fiction novel about Eden Ahbez. While Eden was writing hundreds of songs and performing live and making recordings in various styles, his songs were also being picked up by popular artists like Nat King Cole and Eartha Kitt who recorded with a more polished mainstream style. There are also some early rock n roll style recordings here. Eden's professionally recordings often end up as Novelty Pop records such as "Child of Nature" and "The Clam Man" but if you read between the lines and listen to the lyrics it is pretty eye-opening that he is singing about Eastern-religion-style and pre-hippie philosophies about being at one with the planet Earth. All of this is explained in the lengthy liner notes inside the lp along with a few choice photos that establish Eden as a founding father of Southern California mystic/psychedelic music." - Tiki_News "Eden Ahbez's life philosophy was summed up in the lyrics of his most famous song, "Nature Boy," a 1948 hit for Nat King Cole: the song describes a "strange enchanted boy" who wanders the world in search of the truth. "The greatest thing you'll ever learn," he concludes, "is to love and be loved in return." Ahbez was a pre-cursor of California's beatniks and hippies, and an exalted icon of exotica via his rare 1960 album Eden's Island. Beyond "Nature Boy" and Eden's Island, though, there were numerous lesser-known Ahbez record-ings. Ahbez biographer Brian Chidester has been doing an exemplary job of archiving and documenting that catalog of work. The Exotic World of Eden Ahbez (reviewed in UT#38) appeared a few years ago, gathering together 14 Ahbez-related rarities" - Ugly Things 
1. India 02:32
2. Child of Nature 02:39
3. Anna Was Mine (Demo Version) 09:33
4. Nature Boy (Mantovani Orchestra) 03:11
5. Land Of Love (Come My Love And Live With Me) 03:13
6. Hey Jacque (Hey Jacque) 02:38
7. Palm Springs (The Ray Anthony Orchestra) 02:33
8. Umgowah 01:56
9. Wild Boy ( with Mort Wise & The Wisemen and Rocky Holman) 02:06
10. Surfer John (Nature Boy & Friends) 02:32 02:32
11. Eden's Island (Arthur Lyman) 02:05
12. Monterey (with John Harris and Paul Horn) 02:44
13. Overcomers Of The World (with John Harris) 04:17
14. The Clam Man 02:25
15. Nature Boy (The Talbot Brothers) 02:57

---
Share this Product
---