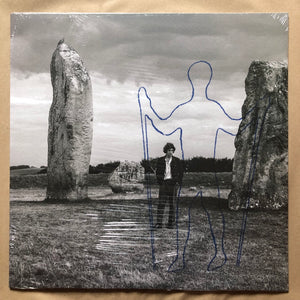 Hollow Hand
Your Own Adventure: Vinyl LP
LPCURED026
Regular price
$31.00
$0.00
Unit price
per
Tax included.
Shipping
calculated at checkout.
Label: Curation Records
Release Date: 14th April
We're feeling that kindred spirit with Hollow Hand aka Max Kinghorn-Mills who acts as a DIY lone creative spirit because sometimes ones own vision needn't be muddied. Collaboration is cool but sometimes to really make something so single-minded, rich and personal as this record is, you need to trust the confidence of your own process. The result is something that is a collection of personal influences of British folk lonerism, west coast aor pop gloss as filtered through a home studio.
"The attitude of the album is definitely DIY," says Max Kinghorn-Mills of Hollow Hand's 3rd album - "About just doing everything yourself and not needing to rely on anyone, that's the one thing I love about doing this: no one has any answers for you, you are your own boss and it's your own adventure, it's down to you."This independent spirit that propels the creative process is also one that gave birth to its title: Your Own Adventure.
"The title is kind of a mantra to summarise my philosophy when writing andrecording the album," he says
"I grew up immersing myself in all kinds of Fantasy genres and I loved the choose your own adventure game-books of Joe Dever. Other kinds of books I was reading throughout the writing process pointed me towards a kind of 'belief in the self' - there's no definitive, correctway to live this life."
Despite the creative drive and singular determination behind the album, it's also one that has welcomed some outside input. "I'm very excited to have some guests on the album as I admire each of these musicians so much," says Kinghorn- Mills, referring to the input of Tim Smith (Midlake, Harp), Spencer Cullum, Holly Macve, Ryan Pollie and Oliver Newton, with the album being mixed by Chris Cohen in Los Angeles. "At some level it's a bit nerve wracking [bringing in other people] because this is something that you spend so much time building up and making sure that all the pieces are correct," hesays. "Bringing people in can be like, 'oh god is this going to work?' I don't really ever collaborate much but when I do it's because I trust them."
Whether it was sitting at home and obsessing over every detail independently or adding some pedal steel all the way from Nashville, the ethos of the album remained rooted in trust, intuition and exploration - a sense of letting go and seeing where the project takes you. "I just decided I needed to be more open minded, which was exciting," he says. "All those parts of my imagination which had been activated in the past slowly came through. I guess that's again about freedom and your own adventure. Like, just let it happen. Whereas in the past I've been a bit more self-aware, I've definitely let my guard down on this record and not been afraid of the path ahead."
---
Share this Product
---